Why Turmeric Is Gaining Popularity As A Beauty Secret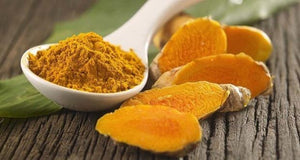 There is no doubt about why Turmeric has been used in Indian cuisine and culture for centuries – it is a traditional wisdom that is backed up by science.
Multiple studies have shown that Turmeric improves digestion, reduces arthritis and joint issues, acts as a mood balancer and relaxant, and there is even continued research on its cancer-fighting properties. It is obvious that the turmeric root possesses powerful healing, cleansing and stimulating capabilities that drastically improve both internal health and appearance.
Reshma Beauty believes in continuing and improving time-tested traditions for our products, while also using the best natural ingredients. This is why we proudly bring our customers
Ubtan, the turmeric face mask
, as well as the 
Turmeric deep moisturizing soap bar
.
Ubtan
has traditionally been used in wedding ceremonies to help the bride and groom appear in their best and purest state. The natural Turmeric powder in our Ubtan mask, along will Sandalwood, will act as a mild exfoliator, regenerating skin cells, helping to reduce acne and to decrease appearance of puffiness and dark circles. Ubtan mixed with water will help slow down oil secretion for oily skin, while dry skin would benefit from a mixture of Turmeric with milk or yoghurt. The natural fats contained in milk will nourish the skin, and the lactic acid will help release the properties of the root.
The 
Reshma Beauty® 
Moisturizing Soap bar with natural Turmeric essential oil
would be fit for a multitude of skin conditions, from acne to eczema to poison ivy. The natural antiseptic and anti-inflammatory properties will assist in reducing redness and irritation. Prophylactic daily use of the Turmeric soap bar can also be your best beauty secret. The mixture of Turmeric's anti-aging properties, and the natural OIive oil and Aloe Vera contained in the soap will leave your skin looking smoother, healthier and more luminous.
Try the soaps at home, share them with your friends and family, and be sure to let us know how you liked them either by leaving us a comment below or a review on the
product page
, or drop us a note via the Contact Us form.
We value your feedback!
---