Priyanka Chopra's Natural Beauty Secrets (GIVEAWAY!)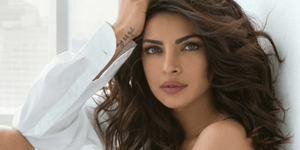 In a recent
collaboration with Harper's BAZAAR
, Priyanka Chopra joined forced with none other than her mom, Madhu, to let you in on some of nature's best kept secrets, which have been used in India for centuries. We are absolutely in love with these tips because they not reflect not only the rich Indian traditions, but also the
Values on which

Reshma Beauty®

was founded:
Love for Self
Love for Others
Love for Nature
Love for Tradition
Watch the video here:
Priyanka Chopra's Natural Beauty Secrets
We applaud Priyanka on promoting time-tested Indian traditions for health and beauty, helping spread the message that beauty can be natural, affordable and simple.
In this post, we'd like to guide you through tips from Priyanka and her mom on how to achieve her flawless looks using
Reshma Beauty®
products, readily accessible and easy to use at home. 
Ubtan Turmeric Mask for Clear, Glowing Skin
Priyanka Chopra with
Reshma Beauty®
CEO, Reshma Dordi
We had previously dedicated a blog post to why the "Ubtan" mask has been a tradition through generation upon generation, especially in wedding ceremonies – and Priyanka's glowing complexion is a testament to its benefits.
The Ubtan recipe comes in several variations, but the leading ingredient is turmeric, with its powerful anti-inflammatory, anti-oxidant and anti-carcinogenic properties. Reshma Beauty® Ubtan Face Mask comes pre-mixed and ready to use containing just four simple, all-natural ingredients: Gram (or chick pea flour), Turmeric powder, Barley flour, and Sandalwood.
For dry skin, mix it with an unsweetened yogurt; for oily skin, mix with Rose Water to balance your skin's pH levels and help slow down oil secretion. Use it as a face wash to remove make up, or several times a week as a mask – and watch your brighten with a natural glow.
Rose Water  & Sugar For Soft, Luscious Lips
Looking for a simple way to make your lips look plump and moisturized? Try a sugar and rose water scrub with a little bit of olive or coconut oil for this decadent nourishing treatment.
According to Madhu, a former Army doctor, "[sugar] is hydroscopic so it pulls the fluid out and your lips go pop." It will also help exfoliate away dead skin cells, leaving your lips smooth and soft.
Reshma Beauty® Rose Water Toner is extracted from natural rose petals, providing the luxurious moisturizing and anti-oxidant benefits of a garden-fresh rose.
Use Oils On Your Skin
Our most recent blog covers the benefits of using Oil for not just your hair, but skin as well. Apparently, this has also been Priyanka's secret for years, garnering many compliments on her silky soft skin.
It is a simple trick: use either the
Oil for Normal to Dry Hair & Skin
, or for inflamed and/or extremely dry skin –
Oil for Dry & Damaged Hair & Skin.
Massage it all over your body, from the legs up and from the neck down, in the direction of the heart.
It's important to work all massaging motions towards the heart center. This will increase circulation and blood flow, providing additional benefits, helping clear your body of toxins and leaving you with younger and refreshed—looking skin.
Want to try Ubtan – the golden nature's secret of India?
The offer is valid through July 2nd, 12pm PST.
Stay tuned in for more news and giveaways in the coming days!
Photo of Priyanka Chopra provided by BizAsia
---