Get A True Bridal Glow With These Natural Beauty Secrets (Part 1)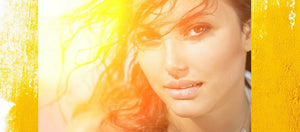 Your wedding day is the celebration of your love and marks the beginning of a new chapter in your life but it comes with its own deadlines. From endless hours of preparation to long checklists, it can be a stressful time for brides. While your attention is primarily focused on venue, décor, flowers, guests, etc., your skin could be silently starved for some much-needed TLC.
Here's how you can stay on top of your to-do list and still get a naturally radiant bridal glow on your Big Day in just four weeks without breaking the bank. We call it the Reshma Beauty® Radiance Boost.
FROM THE INSIDE OUT
First and foremost, manage your stress. Many inflammatory conditions are a direct result of stress. That is why we recommend practicing yoga and meditation to quiet the mind and stay calm. Certain yoga postures, such as inverted forward bends, increase blood supply to the head, which in turn helps your skin glow and radiate from the inside out. We also want to emphasize that drinking enough water and getting your beauty sleep should be the utmost priority for you, as this will help flush out the toxins and refresh your complexion.
EXFOLIATE WITH UBTAN (TURMERIC FACE MASK)
Now, let's turn the focus back to your skin care regimen. The first step of our Reshma Beauty® Radiance Boost is Weekly Exfoliation. As dead cells accumulate on our skin, they clog up our pores, giving us a dull appearance. We recommend using our Reshma Beauty® Ubtan (Turmeric) exfoliating face mask at least 2-3 times a week.
Ubtan has traditionally been used in South Asian wedding ceremonies to help the bride and groom appear in their best and purest state. The natural Turmeric powder in our Ubtan mask, along with Gram Flour and Sandalwood, will act as a mild exfoliator, regenerating skin cells, helping to reduce acne and to decrease appearance of puffiness and dark circles. Curcumin – one of the most important active compounds found in turmeric – is an anti-inflammatory, antioxidant, antibacterial, anti-carcinogenic, antifungal and antiviral powerhouse. No wonder this has been the number one go-to beauty ingredient for hundreds of years.
If you have oily skin, take one tablespoon of our Ubtan powder and mix it with one teaspoon of our refreshing 
Reshma Beauty®
Rose Water
until it becomes a paste. Apply gently in circular motions and wash off with warm water. This mixture will help control your oil secretion. If you have dry skin, we suggest mixing the Ubtan powder with yogurt or milk, as the natural fats contained in milk will nourish and hydrate the skin. Remove any excess residue with our
Turmeric soap
. After this step, spray some
Reshma Beauty®
Rose Water Toner to lock in the moisture and help balance the pH levels of your skin. It also has a sweet and tender Rose scent that is bound to make you feel rejuvenated and refreshed.
And if you would like to learn about a natural remedy that helps lighten pigmentation and blemishes and pulls excess oils - join us next week for part 2 of this article! 
Image courtesy of 
dipesh agrawal
---