What Are The Benefits Of Henna-Infused Hair Serum?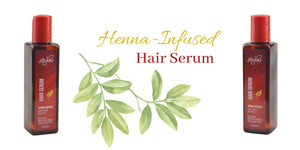 Click
here
to watch the full video.
Are you, like many of us, on the constant lookout for the perfect hair styling product that will moisturize your hair without weighing it down? Do you want bouncy, shiny locks that scream health? Maybe also something you could use for heat styling, or just to add that finishing "oomph" and shine? . Our new Henna-Infused Hair Serum was designed to do all the above. Its lightweight, non-sticky formula will not only protect your hair from heat damage, but also help restore its vitality natural extracts and vitamin E. . This serum is packed with nourishing ingredients that help rebuild your hair's strength, and replenish its moisture. Let's "unpack" this simple, yet powerful naturally enhanced formula.
HENNA EXTRACT
You may be asking: what does "Henna-Infused" mean? And how is it different from using regular henna? . As you probably know, Henna is traditionally used as a natural hair color. The henna plants contain dyeing particles, called tannin, that give your hair a natural reddish tint. We formulate our henna-infused products, including this serum, by extracting the essence of henna and separating the tannin. This process ensures that you get the benefits of henna, without the color-depositing property of henna (otherwise commonly known as the "color stain" in the Henna community). This same technology is used in our Henna-Infused Serum, the Henna-Infused Oils, and our Deep Conditioning Hair Mask. The extract of natural Henna in these products binds to the natural protein in your hair (keratin), helping rebuild and protect the structure of the hair strand. This serum will leave your hair strands smoother and with more lustrous shine. Henna also helps stimulate the hair follicle, promoting hair growth and consequently, more volume.
WALNUT OIL
Walnut Oil is rich in healing and stimulating properties for your scalp. The healing, healthy oils, contained in this tree nut, help relieve scalp itchiness and improve its overall health. Additionally, the potassium found in Walnut Oil helps regenerate the skin cells, thus improving and stimulating hair growth. These micro nutrients will help increase the strength of your hair from the inside out, while also smoothing and conditioning its surface.
ALMOND OIL
Almond Oil is rich in proteins and omega-9 fatty acids, that help fortify the hair from within, leaving it radiant with health. It is also extremely hydrating, helping restore the balance of moisture in your hair. These nourishing elements will help replenish damage caused by excessive heat styling, while also helping prevent additional breakage. Equally important, almond oil moisturizes your scalp, helping prevent dryness and dandruff, for improved health of your hair shaft.
OLIVE OIL
A staple in every health-aware chef's kitchen, Olive Oil can a nourishing "food" for your hair as well. It deeply moisturizes your strands, leaving a lasting conditioning effect. This is possible thanks to the natural acids contained in Olive oil that restore the vitality of your hair. Palmitic acid softens the hair surface, leaving you hair silky and easy to manage. Oleic acid helps make your hair more flexible, keeping it safe from environmental damage.
VITAMIN E
Vitamin E is a famed beauty enhancer for your hair, skin and nails. It is widely used in personal care products and food supplements for its anti-inflammatory and youth-restoring properties. Vitamin E helps protect your hair from UV rays, environmental pollution and damage. It also nourishes your hair from within, prolonging the flexibility and strength of your hair. Look for the ingredient Tocopherol, or Tocopheryl acetate, to find out if your product is infused with this beauty booster. To reap the benefits of the Henna-Infused Serum, use it regularly after wash and before heat styling. Use a dime-size amount and spread it throughout the length of your hair, especially focusing on the tips. Or, if you need to smooth down some pesky frizz throughout the day – just spread a small amount on your hands and run it through your hair. The Serum with give your hair a burst of moisture and nourishment, without the "greasy" feeling. Your locks will stay shiny, bouncy and "free" until the next wash, while reaping the restoring benefits of Henna, natural oils and vitamin E.
---