Is Henna Dye Good For Your Hair?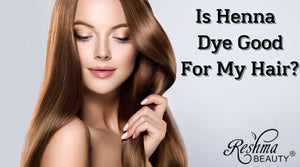 Is Henna Dye Good For Your Hair?
Henna is one of the oldest and most reliable hair dying options that have been used for centuries and for countless reasons. It makes your hair healthy, naturally conditions, helps cleanse your scalp, and the list goes on!
Henna hair dye is often preferred as an option for those looking for a more natural and chemical-free way to color their hair.
What is Henna?
Henna is a natural herb found primarily in the Asian sub-continent. It is used widely to dye hair, skin, and fabric. 
Known for its hydrating and moisturizing properties, Henna encompasses numerous benefits for all hair types. 
The following are reasons why henna is good for your hair.
1. It Doesn't Damage the Hair
Unlike most chemical hair dyes – which have been known to roughen and damage the cuticle to impart the color – henna strengthens and protects hair strands by binding with the hair's cuticle and strengthening it from within.
2. Promotes Hair Growth
Henna is full of beneficial nutrients for your hair. Not only do these nutrients improve the health of your scalp, but they also strengthen your hair and protect it against harmful environmental conditions.
3. It Combats Dandruff
If you're suffering from an itchy scalp and would like to get rid of dandruff, then henna is your go-to hair remedy. Henna has some amazing antifungal traits which are a natural solution for treating many microbial disorders such as dandruff and itchy scalp.
4. It is a Natural Hair Dye
One of the main perks of using henna hair color is that it is completely natural. Henna is derived from plant-based ingredients, offering maximum benefit in its purest form. There are no preservatives, chemicals, or any other toxin material – So you'll have freedom of mind that you're using a natural product.
5. Regulate Oil Secretions
Both the excessive and insufficient use of anything can have its drawbacks. Our natural oil secretion tends to break its formulation because of the environmental dust and the harsh we products. Henna is a natural conditioner that can help regulate hair oil secretion levels, offering a much balanced and enriched hair texture.
Henna is safe to use and is the best hair coloring agent you can ever use. Not only does it color your hair, but also makes it stronger, durable, and a lot brighter. Using henna is packed with some amazing benefits that you should definitely try.
Touch of Care For Your Hair.
---