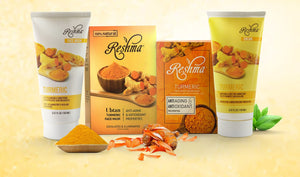 Nature's Super Ingredient for Natural Glow
From scenic sunsets to gorgeous flowerbeds, when giving, mother nature goes above and beyond. One such powerful beauty miracle of mother nature is turmeric. The numerous medicinal benefits of turmeric such as its antioxidant and anti-inflammatory properties have given turmeric the reputation of being the best skincare ingredient.
Turmeric Care for Glowing Skin
Reshma Beauty® has created a perfect skincare routine for you by incorporating nature's super ingredient in its best skincare creation: The Turmeric Gold Bundle.
A Nourishment Rich Skin Care Routine with Turmeric Gold Bundle
https://reshmabeauty.com/products/turmeric-gold-bundle
Turmeric is rich in antioxidant and anti-inflammatory properties, making each product in the Turmeric Gold Bundle by Reshma Beauty® the best skincare choice for dull and acne-prone skin.
Turmeric Soap
https://reshmabeauty.com/products/turmeric-soap
Skincare starts with selecting the right skincare product for you, and what's better than selecting natural and toxin-free products? The Turmeric Soap by Reshma Beauty® is an all-natural soap that is rich in antioxidants and anti-aging properties. The soap is an excellent cleanser that is also an equally good exfoliator as it is infused with rosemary and orange peel. The soap also contains a perfect blend of essential oils making it an excellent moisturizer as well.
Reshma Beauty®
is effective in treating oily acne-prone skin. The natural formulation of the turmeric face wash is designed to be gentle on the skin while nourishing it.
Turmeric Face Mask
https://reshmabeauty.com/collections/face-masks/products/ubtan-turmeric-face-mask
The Ubtan Face Mask by Reshma Beauty® is enriched with the goodness of turmeric and is rich in anti-aging and antioxidant properties. The application of the Turmeric Face Mask exfoliates the skin and gives it a healthy glow.
Turmeric Cream
https://reshmabeauty.com/collections/cream-lotion/products/turmeric-cream
The antioxidant power of Turmeric and moisturizing properties of Jojoba Oil are combined to make this luxurious cream for the face and body to help heal cracked skin, redness, and other signs of dryness.
---