Turmeric: Skincare Benefits & Natural Properties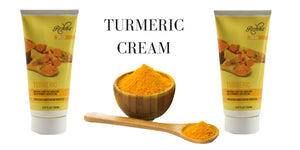 Click here to watch a full video about our Turmeric Gold Bundle!
While winter gives us an excuse to indulge in hot chocolate, puffy sweaters and knee-high boots, it is not forgiving when it comes to our skin. From dull and flaky skin to full-blown eczema - 'Tis the Season of Dry! But did you know that Turmeric is that superhero herb that can treat your worst skin nightmares! . Here's how - the active ingredient 'curcumin' in Turmeric possesses anti-inflammatory, anti-bacterial and anti-oxidant properties known to soothe inflamed, irritated, flaky skin by controlling the enzymes that cause these conditions. Now imagine this life-changing ingredient coupled with Jojoba Oil and Sandalwood - both of which are vitamin rich moisturizers. That combination makes the intensely hydrating and healing, Reshma Beauty® Turmeric Cream that helps heal eczema spots, dermatitis, cracked skin, foot calluses, redness and other signs of dryness. Let's break down the benefits of each one of these ingredients in the RESHMA TURMERIC CREAM
TURMERIC - For centuries, South Asians have been using Turmeric powder to heal wounds, as not only would it prevent further bleeding, its anti-septic and anti-inflammatory properties would also kill infections without causing any scarring. On the contrary, Turmeric is widely popular for brightening and illuminating the skin.
JOJOBA OIL - Jojoba is full of Vitamin E and B, as well as antioxidants and minerals like chromium, copper, and zinc, that nourish the skin with much needed nutrients along with providing long lasting hydration. It is also non-greasy so it does not clog pores, thereby promoting a healthy, fresh complexion.
SANDALWOOD OIL - Sandalwood is not only known for its amazing aroma but also for its incredible regenerative and soothing properties, especially for dry skin. Not only does it help treat itchiness and skin irritations, it also helps revive the skin's natural elasticity.
So there you go Reshma Beauties, give your skin the boost of nutrients and deep hydration with the Reshma Beauty® Turmeric Cream infused with Turmeric extract, Jojoba Oil and Sandalwood Oil. Reshma recommends using this as many times as you need to, during the day and at night, all over your face and body, for best results.
---