The Super Succulent: Aloe Vera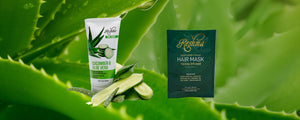 Click here for the full video.
Today, I want to talk about a plant replete with benefits – aloe vera.  Aloe vera is not just good for minor cuts and burns; it is excellent for keeping your skin clear and hydrated. This is because aloe vera is a super succulent that stores water in its leaves, which makes it a natural moisturizer.
Using raw aloe vera on your face, however, can result in a heavier amount of hydration than you may need. This is why we created an aloe vera-infused skincare product: our Cucumber and Aloe Vera Face Wash. This face wash contains all the benefits that aloe vera would give to your skin, making it a great option for daily use!
Our Cucumber and Aloe Vera Face Wash reduces inflammation with cooling cucumber while the aloe vera kills harmful bacteria and hydrates your skin. Furthermore, aloe vera has been shown to reduce scarring and improve dark spots and hyperpigmentation.
But wait — the benefits of this super succulent don't stop at basic skincare. Aloe Vera is also a miracle plant when it comes to haircare and hair growth.
Once again, it's worth reiterating that raw aloe vera is not ideal to use. However, many people may try to use a raw form of this succulent and mix it with other ingredients for optimal hair growth. But if you're unsure how to navigate aloe vera ratios and avoid the overhydration that comes with raw plant extracts, don't worry! We did the work for you. We pre-mixed some of nature's most exquisite hair care ingredients with aloe-vera in our rich henna-infused deep conditioning hair mask.
Here's how to use our henna and aloe vera deep conditioning mask:
1. Open the packet and pour out just as much of the mask as you think you will need to cover all your hair with an even layer of masking cream.
2. Next, massage the henna and aloe vera mixture into your scalp and gently comb it through thin, divided sections of your hair.
3. Let the conditioning mask sit for 3-5 minutes, then wash it off with cool or slightly warm water.
That's it! Let the plant-based benefits begin. Our henna- and aloe-vera infused deep conditioning mask will stimulate hair growth while also adding shine and intense moisture to your lovely locks! So, be sure to add this super succulent to your beauty regimen.
---