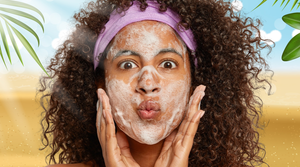 Bronzed skin and floral paradise, from short skirts to bathing suits and salty hair, summer means all things comfort and fun. We know just how exciting the idea of summer can be, but is it equally exciting for your skin?
Say No to Sun Damage
With summer heat comes the risk of too much sun exposure which can cause sun damage and premature skin aging. This summer, say no to sun damage and yes to healthy glowing skin with Reshma Beauty®.
Start Fresh and Hydrate Well
Sweaty summer mornings ask for a refreshing start. Start fresh with hydrating and refreshing face washes by Reshma Beauty®. Try our Cucumber & Aloe Vera Face Wash which is infused with the hydrating essence of Aloe Vera to restore skin moisture and refreshment of cucumber to rejuvenate the skin.
Deep Cleanse the Dirt and Sweat Away
After a long sunny day of sweat and hard work, Reshma Beauty® Honey Peel-Off Mask will deep cleanse the skin and leave it nourished and moisturized. This summer, the sweat got nothing on your skin.
Say Yes to Sun Protect
Like a holy chant, remember the importance of SPF protection in summer. Apply sunscreen with higher SPF 15-20 minutes before stepping out in the sun to stay protected from the UVA and UVB rays of the sun.
Enjoy this summer stress-free; Reshma Beauty® will care for you and your skin!
---