HOW TO GET AN INSTANT TURMERIC GLOW: DIY GUIDE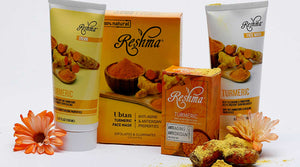 They say, it takes two weeks for your mind and body to get used to anything, so make sure you are developing good habits! While we should all be making time for daily walks, meditation and positive affirmations - we should also allocate time for some indulgent hair and skincare DIYs. Because this time will pass so let's use it wisely so we can jump right back into action, when it's business as usual, with glowing skin and healthy locks! Here's one of our all time favorite DIYs.
First, start off by washing your face clean with the Reshma Beauty® Turmeric Face Wash, that helps deeply cleanse your pores along with shielding it against environment pollutants, thanks to the medicinal properties of curcumin, in Turmeric. Now, mix some Reshma Beauty® Ubtan (Turmeric) Face Mask powder, in a bowl with milk or yoghurt or Reshma Rosewater. Stir it up, till it becomes a fine paste and then gently rub it on your skin in circular motions for 2-3 minutes. You can use this on your face, neck and arms too. This is an excellent beauty hack to help detoxify the skin, and melt away impurities, along with giving you an instant radiant glow. Wash it off and then spritz away some Reshma Beauty® Rose Water to tighten your pores and balance your ph levels, along with lifting your mood with the aroma of roses!
Before you go off to doing other things, don't forget about your hands! Apply the Reshma Beauty®  Aloe Vera Infused Hand Sanitizer all over your hands, and in between your fingers and let it dry, before you touch anything.
Once dry, you are good to go. As an added measure for moisture, you can apply some Reshma Beauty® Turmeric Cream. And that's how you take care of your face and hands!
All these luxurious natural products are available on our website. No need to go anywhere since they are all only a button away. Until next time, stay safe, sanitized, and serene.
Click
here
to watch a full video on how to get super radiant skin!
---