Reshma Beauty® New Gift Sets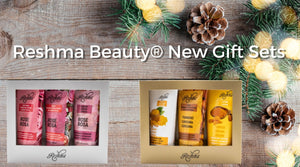 The holiday season is upon whether you are shopping for your love ones or attending holiday parties the stress from it all can take a toll on your skin. This holiday season Reshma Beauty® has prepared a holiday gift set to take care of you and your loved ones skin.
Introducing Reshma Beauty® Gift Sets
Ravishing Rose Gift Set
Rose Face Wash
Rose Scrub
Rose Cream
Amidst the jam-packed schedules and excitement for the holiday season, we tend to forget to take care of ourselves. Reshma Beauty® Ravishing Rose Gift Set has got you covered. Our Rose Face Wash helps you in taking off all the dirt, impurities and makeup residue & will set a clean base to start the routine, Our Rose Scrub helps in removing the dead skin cells and reveals the glowing and healthy skin beneath and Our Rose Cream keeps your face glowing, hydrated and well moisturized.
Turmeric Gold Gift Set
Turmeric Face Wash
Turmeric Scrub
Turmeric Lotion
When prepping for the hectic holiday season and trying out some skincare tips at home, the last thing you want for your face is to be bombarded with harsh chemicals. If you want to ditch your chemical-based skincare and switch to natural based ingredients, you should try Reshma Beauty® Turmeric Gold Gift Set. Our Turmeric Face Wash helps to cleanse oil, dirt, and impurities from within to reveal radiant skin, Our Turmeric Scrub uses natural exfoliating agents that are gentle on your face and doesn't irritate. Exfoliating with a face scrub will unclog your pores and leave you with naturally glowing skin and our Turmeric Lotion keeps your skin glowing, hydrated and well moisturized.
Get the glow this Holiday season with Reshma Beauty® Gift Sets
---