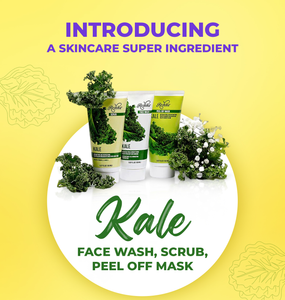 Introducing A Skincare Super Ingredient
It's no secret that greens correspond with health, not just for our stomachs but also for our skin. Kale is one such super green that is rich in vitamin C, E, and K. Now, you may ask what these vitamins are worth. Well, Vitamin C is an antioxidant, which means that it aids in brightening skin while balancing skin tones. Vitamin E, on the other hand, is known to moisturize and protect the skin mainly from sun damage, and Vitamin K helps lessen the appearance of dark spots. Do you know what that means? Goodbye Dark Spots and Hello Gorgeous Skin!
Kale Your Skin Worries Away
Kale consists of phytonutrients. Wait a second. What are Phytonutrients? Phytonutrients are plant-produced, natural compounds that keep them healthy and protected from external stresses. These phytonutrients are also anti-inflammatory which prevents skin puffiness and bloating.
The Kale Cleansing Trio: Superfood Skincare Bundle
Kale Trio Bundle

Reshma Beauty® has seen the skincare benefits of this nature's super green, which is why we have curated our very own Kale Cleansing Trio consisting of a Kale Face Wash, a Kale Scrub, and a Kale Peel Off Mask.
Kale Face Wash
Our Kale Face Wash is infused with Kale essence that nourishes the skin and treats it gently with a hearty dose of antioxidants while removing skin impurities. Apply a dime-size amount of our Kale cleanser to the wet face. Massage gently in circular motions and rinse thoroughly.
Kale Scrub
Our Kale Scrub is formulated uniquely to support a luminous glow. The scrub promotes skin brightening by deeply cleansing and exfoliating the skin. Softly massage the scrub over the damp face and neck in circular motions. Rinse thoroughly with water and pat dry.
Kale Peel Off Mask
Our Kale Peel Off Mask works its magic by deep cleansing the pores from external impurities and boosting the natural radiance of the skin. Apply the mask evenly to your face and neck while avoiding the eyes. Let the mask sit for approximately 15-20 minutes until dry. Peel off the mask gently by pulling it away from the skin. Wash off the remains and residue with warm water.
Now that you know the power of Kale, what are you waiting for to make a purchase?
---