Kale Face Wash: A Detox For Your Skin!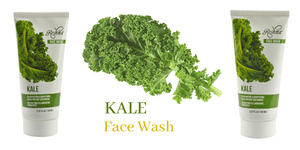 Click here to watch the full video.
You've seen Kale in your salads, smoothies, green juices and now – we at Reshma Beauty® are introducing it to your skin care regime. Yes, this trendy green superfood is not only beneficial for your health, but also for your skin is infused with Vitamins A, C and K, iron, and antioxidants that help tighten pores, reduces dark circles, promote collagen production, increase cell turnover, and prevent free-radical damage.
The brand new Reshma Beauty®  Kale face wash has detoxifying and illuminating properties. The Vitamin A in Kale promotes cell turnover, thereby allowing natural exfoliation and strengthening your skin's defense against clogged pores.
On the other hand, the Vitamin K in Kale helps to reduce the dark circles under your eyes and "tightens" your skin, thereby reducing fine lines and wrinkles. It also helps to reduce the swelling and scars that may form after medical procedures. This is why the Reshma Beauty®. Kale face wash is a must in your skin care routine - especially if you live in heavily polluted cities and get clogged pores very easily.
Our skin is able to reap benefits of Kale from the outside in, just as much as it does from eating and ingesting it.
---