How to Incorporate Rosemary Into Your Skincare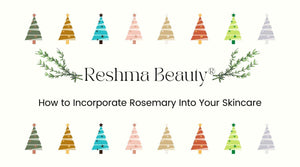 Rosemary in Skin Care
Rosemary in particular is well-suited for skincare, especially for acne, thanks to its antibacterial and antioxidant properties. In the long run, using rosemary on your skin is good for you, especially for your face. Because it contains anti-inflammatory properties, it can be used to lessen redness and puffiness.
Rosemary is used in aromatherapy to improve memory and reduce stress by increasing blood flow from the head and brain. The therapeutic properties of rosemary are extremely beneficial for uneven skin tones. Rosemary combats uneven skin tone and will brighten your face and gives a luminous complexion.
Here at Reshma Beauty®, we've made things easy for you to make your very own Rosemary Rose Water Toner in just 2 easy steps.
Rosemary Rose Water Toner
Ingredients:
1/4 cup fresh rosemary
1/2 cup of Reshma Beauty® Rose Water Toner
Directions:
All ingredients should be combined in a small pan and simmered. Turn off the heat and cover the pot as soon as a few little bubbles appear. Let the pan cool before touching the pan.
After the mixture has cooled, strain it and put the mixture into a spray bottle. Use within two months.
To Use: Twice daily, Use a spray bottle to administer or pat clean skin with a soft cloth.
---