How to Incorporate Rose Water Toner Into Your Skincare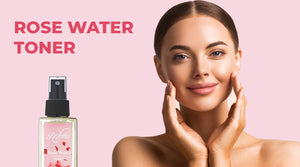 Beauty With A Purpose
The beauty we are talking about here is roses, and the purpose is skincare. Roses are known as the symbol of appreciating beauty, but do you know that this iconic flower is also an active ingredient in various skincare products that help enhance beauty? Rose water is one such skincare product that helps accentuate beauty with its skin-nourishing and skin-soothing properties.
Rose Water Toner For All The Right Care
The skin benefits of rose water are innumerable, as rose water has been used since medieval times. We at Reshma Beauty® have taken inspiration from such historical skin sciences and curated our Rose Water Toner, which works as a natural antioxidant properties. The goodness of fresh roses makes our Toner the best if you are looking for some extra nourishment and moisturizing this autumn season.
Rose Water Toning
Cleanse your face with a gentle cleanser and pat dry. Apply the Rose Water Toner evenly to your face and let it sit for a few minutes. Repeating this process regularly will not just give your skin morning refreshment but will also restore the natural pH of your skin. Toning with rose water will also alleviate skin irritation and relieve symptoms of sunburn by leaving a cooling sensation behind.
Makeup: Set and Remove
Reshma Beauty® Rose Water Toner also works as a great makeup setting spray as well as a makeup remover with the added benefit of being completely natural, which means no harmful chemicals on the skin. Double up our Rose Water Toner as a makeup setting mist, as it will efficiently help you get rid of the powdery makeup finish and lock your makeup in place. To use the Rose Water Toner as a makeup remover, dilute it with 1 tsp of coconut oil which will help create an effective and completely natural makeup remover to help dissolve even the most stubborn makeup within minutes.
Rose Water As A Hair Mist
Rose water can be used as a hair mist too. Its mild rosy fragrance acts as a natural hair perfume, and its astringent properties help remove dandruff and oiliness from the scalp. Rose water is also rehydrating and will keep hair dryness and frizz at bay.
Fulfill all your skin and hair dreams with the magic of beautiful roses.
---