Honey & Lemon Face Wash for Dry & Acne-Prone Skin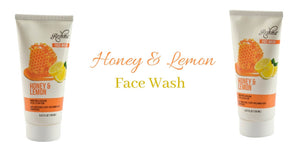 Be sure to watch the full video to learn more about the benefits of honey and lemon!
---
Having a cup of warm water or tea with honey and lemon is a health and detox tip that has been adopted by many. Honey's warming and soothing powers are believed to help stop the onset of a cold, while lemon has been outright proven in research to
relieve digestive issues
— but did you know that the combination of honey and lemon can also be used to treat dry skin and to reduce acne?
Learn more about the skincare benefits of this dynamic duo in this blog from
Reshma Beauty®
, and get the inside scoop on our new
Honey & Lemon Face Wash.
This
2-in-1 facial cleanser
from our natural skincare collection combines the properties of sweet Honey with real Lemon Peel extracts to balance out dry and acne-prone skin. We really mean it when we say that it's the Bee's Knees! Not your cup of tea? If you're seeking a natural solution for your own complexion or skincare troubles, be sure to check out our full line of plant-based formulas,  or feel free to explore our
other bestselling henna products
!
My skin isn't oily but I'm still prone to acne — what's the deal?
It's a common misconception that only oily skin types can suffer from acne, but as you might expect, this common complexion issue is quite a bit more complex! As it turns out, dry skin can result in micro-cracks in the epidermis (skin's outermost layer), and these tiny fractures in the tissue make it more susceptible to inflammation and flare-ups of blemishes.
Furthermore, acne-prone dry skin can also be caused by or be a warning sign of an internal health issue, such as an imbalance in hormone levels, or a compromised environment of gut bacteria in the digestive tract (otherwise known as the microbiome).  Whatever the cause, it can be difficult to find a satisfying product or facial cleansing formula that properly balances its moisturizing benefits with effective acne-preventing properties.
The Bee's Knees in a Bottle: About
Reshma Beauty®

Honey & Lemon Face Cleanser

If this sounds like your skin type, there's no need to worry — you can have both skincare needs met without using tons of products — and without using any parabens, sulfates, or other yucky synthetics. Our

Honey & Lemon Face Wash

masterfully combines the acne-combating properties of citrus with honey's calming and soothing capabilities, almost like a gold serum sourced straight from the honeycomb.
COMBAT ACNE WITH LEMON 
Lemon Peel extract
works in skincare solutions as a dual-action agent, meaning that it simultaneously offers antibacterial and astringent properties. First, the mighty yellow citrus cleanses the skin of acne-causing bacteria to stop the acne at its source before it can rise to the surface. Secondly, lemon peel has unique natural enzymes that help the skin regenerate new tissue that covers and protects acne-affected area, preventing the unwanted blemishes and blackheads from re-appearing.
Of course, lemon is also a vitamin C powerhouse that can work to detoxify your skin and boost your natural glow.
SOOTHE WITH HONEY
Honey
comes into play as a moisturizing and balancing ingredient that nourishes irritated and dry skin. Since
ancient times
, when it was discovered in Egypt, honey has been used as a healing agent. Today, it's still true that honey is helpful and healthy, especially for relief of redness, irritation and minor superficial skin damage. Honey can even help to open up the pores, effectively cleansing away blackheads and blemishes without drying the skin.
Honey is naturally moisturizing, and it functions as an incredibly gentle cleanser for the colder months of the year. Oh, and it's more than worthy of mentioning it's full of antioxidants, which keep your skin youthful and toned.
Keep High-Maintenance Skin Happy — The Way Nature Intended!
The combination of Lemon Peel and Honey in our
innovative face wash
will help leave your skin smooth and clear, while keeping it moisturized and balanced. This face wash is a must for people who may have issues with acne-prone dry skin, but it is also beneficial for all skin types, whether they're high-maintenance or not!
Do you struggle with dry skin, acne, or both? What are some of your favorite secrets to keeping your skin happy? We want to know! Contact us anytime to share your beauty insight!
---