Give Your Skin A Golden Glow with Turmeric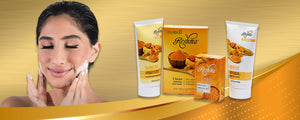 Not just a culinary super ingredient, turmeric with its antioxidant and anti-inflammatory properties, has gained a golden reputation in the skincare industry. Reshma Beauty® understands that the power of natural ingredients is unparalleled, and so are the benefits of their inclusion in skincare products.
A PERFECT MORNING ROUTINE WITH TURMERIC GOLD BUNDLE
Our Turmeric Gold Bundle is designed specifically to extract the richness of turmeric and incorporate it into the range of skincare products by Reshma Beauty to help give your skin a golden glow.
TURMERIC SOAP
Start your mornings with deep cleansing. Our turmeric soap is infused with rosemary and orange peel along with essential oils which makes it perfect for exfoliating and moisturizing to repair skin help damage.
TURMERIC FACE WASH
Turmeric gives radiance to the skin and is a great antioxidant. Keeping this in mind we have created Reshma Beauty® Turmeric Face wash which will give your skin a visible glow and freshness. The antibacterial and antioxidant properties of turmeric make this face wash treatment and for acne prone great oily skin.
UBTAN FACE MASK
Once the face is washed clean, pat dry your face and apply our Ubtan Face Mask for skin smoothing and moisturizing. This face mask is an ideal choice for dry, flaky, and acne-prone skin as it will soothe the inflammation and calm skin irritation with its antiseptic and antibacterial properties. Let the mask sit for 10 minutes after application and wash it off with warm water.
TURMERIC CREAM
To finish the skincare routine, gently massage our Turmeric Cream on clean and dry skin in a circular motion. Our luxurious cream is enriched with the antioxidant properties of turmeric and moisturizing properties of jojoba oil which makes it a perfect choice for dull, flaky, and blemished skin.
---