Turmeric for Skin: Is It Beneficial?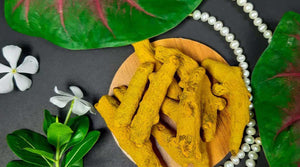 For centuries, turmeric has been used medicinally throughout South Asia to treat wounds, soothe fevers, and in preventative care. Since those ancient times, the knowledge and use of turmeric has continued in South Asian cultures and has most recently found its way to the Western world. As a result, this delicious spice has been rising in popularity as its beneficial properties are being recognized more in modern medicine and beauty. Which presents the big question: Is using turmeric for your skin really beneficial? 

Turmeric, or Curcuma longa, is a root that comes from the ginger family, Zingiberaceae. An excellent addition to many cuisines, this ingredient is also beneficial when used topically on your skin. We've dug deep into the science and use of turmeric to bring you the top three reasons you should use turmeric in your skincare routine.

Reason 1: Anti-Inflammatory 
Okay, let's start with the most obvious reason, it is anti-inflammatory. The curcumin found in turmeric is known to help decrease inflammation and oxidation, which aids in skin healing. Studies have found that this results in wounds healing more quickly, too. A few unique perks of the healing effects are that it helps to reduce the appearance of acne scarring and increase collagen production. 
The anti-inflammatory properties are also attributed to helping clean out pores to clear up acne breakouts and calm the skin.

Reason 2: Living On The Bright Side
Probably the most well-known benefit of turmeric in the beauty industry is its natural glow-boosting properties. Assisted by the anti-inflammatory properties, combined with its antioxidant and antimicrobial effects, turmeric has been found to help brighten skin tone and reduce hyperpigmentation. An even skin tone is a significant perk here, but that's not all. Turmeric has also been found to help slow the skin's aging process by diminishing wrinkles, keeping skin supple, and its ability to increase collagen production improves skin elasticity. 
Fun fact: starting at about the age of 25, an average female's collagen production begins to slow down, meaning skin elasticity and firmness are reduced. With frequent use of a turmeric face mask, turmeric face wash, or even a turmeric cream, you will likely see a major difference in your skin and find significant improvements in how your skin looks and feels. 

Reason 3: Skin Issues, Who? 
In modern day life, we all encounter free radicals in the environment, endure the side-effects of hormones, and combat the inevitable age factor, so we're bound to experience skin conditions of all kinds. Skin conditions like psoriasis and eczema were found to be reduced with frequent turmeric treatment use, helping to reduce flare-ups. In addition, turmeric is ideal for skin healing and preventing dry skin. The science on turmeric benefits is promising, so healthy and nourished skin is perk number three! 

We are in love with all these amazing benefits of turmeric! There is nothing more satisfying than finding a natural product that provides all the benefits you've been looking for in your skincare routine. 

Don't forget to subscribe to our newsletter for more inside tips, tricks, facts on nature's best-kept secrets, and an extra 10% off for new subscribers. We also like to give special rewards to our loyal newsletter family, so keep watch for those! 
As always, stay safe, stay healthy, stay beautiful!
 
Love, Reshma
---