Honey Is The Seriously Sweet Solution You Need In Your Skincare Routine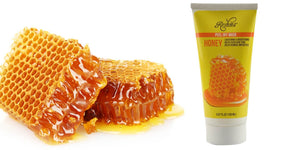 Recently, Kendall Jenner opened up about her struggle with acne in the past couple of years. She expressed how acne affected her self-esteem and confidence. Like Kendall, many young men and women go through the same skincare issues of acne and acne-scarring. We have a special advise and remedy for YOU. Firstly, as Steve Maraboli says 'there is nothing more rare, nor more beautiful than a man or a woman being unapologetically themselves; comfortable in their perfect imperfection. That is the essence of TRUE BEAUTY". Secondly, even your worst skin nightmare can be healed! All you have to do is trust in Nature's Best Kept Secrets like HONEY!
HONEY is full of natural anti-bacterial, anti-septic and anti-inflammatory properties. For those of you who have acne-prone skin, HONEY WORKS WONDERS! It keeps the skin well-hydrated and balanced, and controls the production of oil. Massaging honey on your face can also help reduce scarring and gives your complexion a much needed glow. Considering the multi-purpose benefits of this magic ingredient, we decided to formulate a HONEY PEEL OFF MASK. A peel off mask gently removes the outermost layer of the skin to relieve dullness and dead skin. This produces a smoother skin texture and can also help get rid of pigmentation. They are also known to assist in fading fine lines and cleaning out pores.
Reshma Beauty® HONEY PEEL OFF is packed with nourishing ingredients to cleanse and soothe all skin types. Honey provides deep-cleansing properties, while Almond Seed Extract helps soften and moisturize the skin, thereby helping you get a brighter and more even skin tone. We recommend using this two to three times a week at night followed by our Reshma Beauty® Rose Water Toner and the Reshma Beauty® Turmeric Cream as another added layer of protection and healing. While the Rose Water Toner helps balance the pH levels of your face, the turmeric creams provides intense hydration. This three step process of the Honey Peel Off Mask, followed by the Rose Water and Turmeric Cream will help unclog and deeply cleanse your pores, along with healing and soothing your skin.
Click here to watch the full video on the benefits of honey.
---