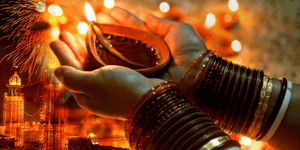 Click
here
to learn more about Diwali and our
Product Bundles
!
Diwali, known as the Festival of Lights, is one of the most significant holidays in India. It's a five-day celebration that is tied to the lunar calendar. Traditionally, the third day is marked as the main day of celebration, as it coincides with the darkest night of the lunar month. This year, Diwali falls on November 7th.
As India is a home to people of many ethnic groups and religions, for many of them, Diwali bears their own special significance, tied into their history and spiritual beliefs. For Hindus, it is an occasion to worship and welcome the Goddess of Wealth and Prosperity, Lakshmi. For Sikhs, it celebrates the day a major guru [Guru Hargobind] was freed from imprisonment (USA Today).
Regardless of the background and history, the overarching significance of Diwali remains the same: the victory of Light over Dark, Good over Evil, and Knowledge over Ignorance. This is symbolized by the abundance of candles, intricate diyas (lamps made out of clay), firecrackers and fireworks that are lit throughout the days of celebration. It is a big homecoming event – a time for families to exchange visits and for communities to come together and partake in fairs, song and dance performances, and parades. In preparation for the festival, houses are cleaned and decorated with great care. Doorsteps and rooms are decked out with Rangoli: traditional colorful patterns that can be created out of flowers, colored sand, powders and rice. Their purpose is to bring not only the joyful sight of color, but also good luck.
Women and men wear their best clothes and decorate their hands, feet and arms with body art quality (BAQ) Henna patterns to signify good luck and prosperity. Diwali is also a big occasion to exchange gifts. Reshma Beauty offers special product bundles which allow you to try a wide variety of our natural based products at even better prices. Visit our Instagram and Facebook pages for a special 25% discount – and gift your loved ones with Nature's Best Kept Secrets on this auspicious holiday.
---