The RIGHT Way to Use Hand Sanitizer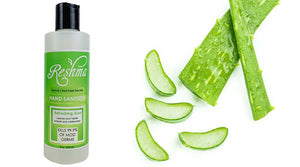 We want to make sure all of our Reshma Beauties are staying safe by being at home, frequently washing your hands, and using hand sanitizer on a frequent basis. If you're tired of searching for hand sanitizer in stores and can't find it, we recommend our Hand Sanitizer infused with Aloe Vera. Not only is this all-natural product in stock and ready to ship to your door, but it also provides optimal cleansing power with a huge boost of plant-infused moisturizer!
In today's blog, we'll address something that most people don't know about hand sanitizer: there is a simple procedure to maximize its disinfectant effects! We want to share those steps with you today. 
Step 1: Begin by pouring a dollop, approximately the size of a dime, of hand sanitizer on one hand. Then, rub both your hands together to evenly distribute.
Step 2: Take note; this is the step most people forget or miss! Instead of simply rubbing the sanitizer between your palms, make sure to apply the disinfectant on both the backs of your hands and in the spaces between your fingers. Cover all surfaces of your hands.
Step 3: When rubbing on the hand sanitizer, the product should be thoroughly distributed for at least 20 seconds. You can ensure that you spend an adequate amount of time on this step by counting to 20 slowly or singing the chorus from a favorite song.
Please be sure to follow these steps on proper hand sanitizer application. We care for all of Reshma Beauties, and we truly hope that you all stay safe during this uncertain time of quarantine. To provide maximum protection and hygienic benefits, we recommend using our moisturizing hand sanitizer, which will clear your hands from 99.9% of most germs. We have ensured that our alcohol concentration is 70%, which is completely safe and more effective than the average competitor product. 
Reshma Beauty® Hand Sanitizer is infused with an abundance of Aloe Vera as well, keeping your hands silky smooth and protecting them from the dry skin that other products cause. The CDC recommends using hand sanitizer once every hour. With Reshma Beauty® Hand Sanitizer, your hands will stay moisturized no matter how often you use it. For added moisture and velvety skin, we recommend our luxurious Turmeric Cream.
For safety measures, please keep hand sanitizer out of the reach of children and refrain from using it in the kitchen.
We hope you all stay safe during this difficult time, and all of us at Reshma Beauty® sincerely thank you for your support of local businesses like ours.
---