SELF-CARE TIPS DURING QUARANTINE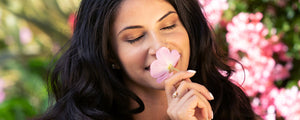 In times of confusion, uncertainty, and panic - it's our duty as a nation to stand together, help one another and remember that we are in this together. As everyone's favorite everyman, Tom Hanks, once said, "Remember, despite all the current events, there's no crying in baseball." With that same spirit in mind, here are some tips for self-care to keep you staying well, in all ways, during this strange quarantine season. Read on to learn about how you can keep busy and take care of your body throughout the COVID-19 era — and continue to carry the positive practices with you through all the years that follow.
Now is the perfect time to become a pro at self-care — and practice makes perfect! If you're already stuck indoors, you might as well indulge in hair and skincare rituals that you did not have the time or resources to invest in prior to this period of quarantine.
Meditation & Mindfulness
First and foremost, you must clear your mind. Really! Dedicate some time to meditate every day, even if it's just a few minutes. Not only will this mindful habit help you maintain a calm state of being, but also, it will encourage you to radiate positivity from the inside out. Now more than ever, we could all use a bit more optimism in the world.
Hair Care
Now, on to some practical tips for hair and skincare. Keep your hair deeply nourished and hydrated by massaging your favorite Reshma Beauty® Henna Infused Hair Oil over your scalp. Ideally, you'll want to do this about one day before you plan to wash your hair. Since state-mandated quarantine likely means that you are not going anywhere, you can leave your henna hair oil on for several hours or even the whole day, while you keep busy doing other things. Our oils are infused with nature's best-kept ingredients, including Olive Oil, Almond Oil, Tea Tree Oil, Cedarwood Oil and of course, our all-natural Henna Extract.
Together, these powerful potions help repair damaged hair with deeply moisturizing and therapeutic ingredients, while simultaneously cleansing the pores of the scalp, refreshing hair follicles, and promoting healthy hair growth.
Skincare
You can also apply Reshma Beauty® Henna Infused Oils on your body, providing skin with the necessary moisturizers and nourishing ingredients needed to produce velvety, ultra-hydrated results. The healthy fats and plant-based components in our beauty oils also pack a punch by providing a protective shield over skin's most delicate layers, which can help to prevent breakouts, clogged pores, dryness, and other common complaints related to complexion. This is also a good time to test out new skincare products or try to implement a more elaborate skincare routine. If you do decide to switch up these personal care practices, we recommend starting with a trifecta of essentials: Reshma Beauty® Turmeric Face Wash, followed by our Multani Mitti Mask, and last but not least, end with a quick-toning treatment using Reshma Beauty® Rose Water. This 3-step formula for flawless skin is insanely simple, but oh-so effective. Order the essentials here, and try it for yourself. You'll be amazed just how quickly this easy yet elegant skincare routine can help regenerate new skin cells, stimulate nutrient absorption, boost beneficial circulation to the skin, and provide a deep cleanse for your pores.
So there you go, just because you are home, doesn't mean that your self-care strategy and beneficial beauty rituals should fall by the wayside. Hopefully this quarantine era will be the only one in our lifetime, but as long as it's going on, we might as well make the best of it — and make ourselves better in the process. Use this time wisely and kindly — when it comes to self-care, you'll likely never see another opportunity as great as the one we are currently navigating.
Until next time, please take care of yourself and do what you can to stay healthy. Most importantly, remember that this too will pass!
Click here to watch the full video on self-care tips.
---