The Tradition Of Raksha Bandhan, Explained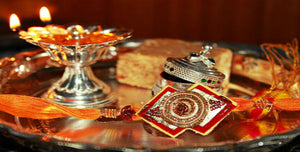 Raksha Bandhan, or Rakhi for short, is a beautiful Indian tradition honoring the special relationship between brothers and sisters.
The name originates from two Sanskrit words: 
Raksha: "protection", or "care"
Bandhan: "tying", or "fastening" 
Fun fact: the word Bandana comes from the same root!

Leading up to the designated day, sisters pick out a woven bracelet, called
rakhi
. The day of the holiday, the woman ties the bracelet on her brother's wrist, as a wish for prosperity and happiness for her brother. After this, the sister and brother say a prayer together, and the sister may also perform a traditional worship, calling for protection on her brother by deities.
In return, the brother promises to protect his sister, and showers her with special gifts as a token of his love and care. The gifts can include sweets, jewelry, and beauty items that his sister loves.
This ritual symbolizes mutual care and respect, enforcing the bond between siblings – even after they move out of their family home. It is not uncommon to travel across cities and states in India to see one's brother or sister for this special occasion.
This tradition re-enforces a special lasting bond between siblings. Yet, it is not limited to brothers and sisters "by blood" only: women may choose to honor the men they consider brothers as well, those who have protected and stood by their side.
This year, Rakhi falls on Sunday, August 26. A great way for men to honor their sisters is to give a set of naturally-based skin and hair care products, to help preserve and enhance their natural beauty.
Reshma Beauty®

offers two Bundle sets that would be a perfect gift. If you would like to select your own set – head over to the Shop page to browse all Reshma Beauty products.
---