Navratri Celebration (part 2 of 2)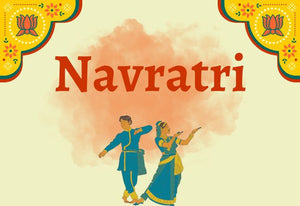 Navratri Celebration
Henna Cones | 30 Minute Henna - Natural Dark Brown | Turmeric Soap | Turmeric Face Wash | Henna Infused Hair Serum | Classic Henna Original
Spiritual Significance of Navratri
It is a traditional belief that during the nine nights of Navratri, Mother Goddess Shakti appears in her nine different forms to bless her devotees. Our Universe and every living form on this earth came into existence with the blessings of the divine goddess. It is also believed that Goddess Shakti takes different forms to annihilate all evil and protect her devotees, just like a mother.
The Symbolism of the Nine Nights
The symbolism of the first three nights of Navratri is to overcome the inner inertia known as Tamas. The following three nights are dedicated to overcoming passion focused on negativity, known as Rajas. The last three nights of Navratri are focused on keeping purity as an eternal focus in life, the act of which is known as Sattva. The nine nights of Navratri in a shell are an opportunity to re-establish faith and purity by making positive changes in life by seeking the blessing of Maa Durga.
Ego Death And The Rise of Spirituality
With the worship of Maa Durga during the nine nights of Navratri, one should destroy all sense of ego, negativity, and pride by indulging the worship of Navdurga. With the dawn of the ninth night of Navratri, all ego should get destroyed, and spiritual wisdom should enlighten one from within. This ego death is commemorated on the tenth night with the burning of Ravana, known as Vijayadashami or Dussehra.
Dandiya, Garba, and All The Fun
Indian festivals are incomplete with colors, costumes, dance, and upbeat music. One such dance form to celebrate Navratri is known as Dandiya or Garba. The Dandiya symbolizes a dance dramatization of the nine-day battle between Goddesses Durga and the demon king Mahishasur, celebrating the victory of Goddess Durga. The symbolism of the festival and the symbolism of celebrating it with Dandiya are the same - triumph of good over evil. With the nine nights of Navratri, one should also focus on purifying the soul by eliminating all negativity and start afresh with acceptance of spirituality.
Reshma Beauty® wishes you a very happy Navratri! May good prevail with the arrival of Goddess Durga and fill your lives with happiness and joy.
---