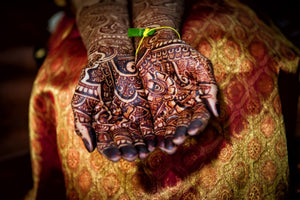 The Rich History of Mehendi
Mehendi is a botanical shrub harvested in many Indian states. When dried and grounded into a paste, Mehendi leaves a range of stains such as yellow, orange and red. It is also used to create intricate patterns and designs on the body, mainly on the palms and feet. Mehendi was brought to India by the Mughals in the late 15th century. With time, the application and the use of Mehendi became highly common and sophisticated.
Once A Tradition, Now an Art Form
The beautiful designs and patterns of Henna art practiced today emerged only in the late 19th century. In the 17th century, the Henna application was less of an art form and more of a cultural representation. Women in the 17th century used to dip their fingers and feet into the Henna paste because it was a way for people to cool off in the Indian desert. Nowadays, Henna art and tattoos are continuously evolving in terms of intricate patterns and beautiful designs.
Culture and Customs
Mehendi powder is one of the most popular ingredients amongst Indian men and women. The Mehendi paste is applied actively to that hair for coloring the grays and conditioning the hair in Indian households for decades. Mehendi is also a custom in Indian weddings as Mehendi is considered as an auspicious ornament that brings happiness and love to the couple.
Getting Love from The West
It was only recently that the Euro-American culture acquired Henna art and its application. Today, Mehendi is one of the primary alternatives to tattoos, making it popular in the West.
Introducing Reshma Beauty Henna Cones
Henna Cones by Reshma Beauty® are natural and free from all harsh chemicals. The Henna paste is smooth and creamy and stains beautifully. You can use the Henna cones for making Henna tattoos or for coloring hair and covering grays.
---