How Was Reshma Beauty® Started?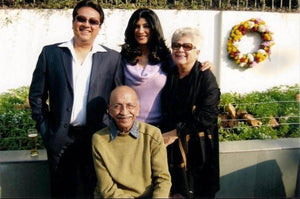 Although my father was an eye surgeon by profession he always had a deep love for nature. My father believed in living a healthy life, he believed in eating organic foods and taught me that everything you needed to live a healthy life was provided to you through nature. After retiring early my father spent most of his time at our family farm in Rajasthan, India. Here on the farm he found solace. He spent his time growing and cultivating organic henna, a product that is used in many Indian traditions.
India's climate is perfect for growing henna, so people living in India had easy access to henna to use in various traditions. Over 25 years ago my father realized that Indians living in America, known as the Indian Diaspora, didn't have such easy access. In fact, he discovered that there were very few Indian products and grocery stores available in America to the Indian Diaspora. With this in mind and his love for nature my father decided to start exporting organic henna to the few Indian chain stores set up in America.
Importing henna was such as a huge success that he decided to combine his love of nature, as well as his love for his daughter to create organic henna in his daughter's name. And, this is how the small family owned business

Reshma Beauty®

came to be.

Reshma Beauty®

purpose is to share the tradition of the natural beauty rituals that are passed down from one generation to another in countries like Indian sub-continent.
The

Reshma Beauty®

product line is centered on Reshma Henna, which is an all-natural product that can be found in our entire beauty product line. Reshma henna is currently in high demand in the South Asian community, but it is also causing quite the sensation in the mainstream market as well. Our current product line is aimed at women and men who are searching for healthy and safe ways to take care of their bodies. From skin care to hair coloring

Reshma Beauty®

products offer you a safe, healthy, and environmentally friendly option.
A few years ago my father passed away and I decided to take over the family business, where I am using my father's brand philosophies to take

Reshma Beauty®

further than it has been before. Currently we are working on some innovative new all natural beauty products, as well as expanding our customer and marketing base.  After all, yoga was once just practiced in the eastern countries, but now its benefits are understood by all. The practice of yoga has transcended race, ethnicity, and gender, so why can't the same be true for henna? Here at

Reshma Beauty®

it is our mission to share this rare nature's secret with the entire world.
---