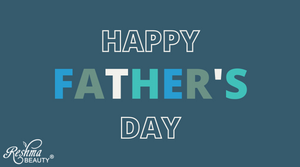 Father's Day is just around the corner, and it's time to show our dads how much we appreciate them. This year, why not surprise your dad with some thoughtful grooming gifts from Reshma Beauty? Whether he's a fan of luxurious henna oils, refined skincare sets, or opulent body washes, Reshma Beauty has something for every dad.
Here is a Father's Day gift guide featuring Reshma Beauty products: 
Henna Oils: Treat your dad to nourishing and rejuvenating henna-infused hair & skin oils from Reshma Beauty. These oils are infused with natural ingredients like argan oil, coconut oil, and almond oil, which help strengthen and revitalize the hair. These oils are excellent as beard oils as they are natural and don't cause skin irritation. Whether your dad wants to combat dryness, promote hair growth, or simply improve the overall health of his hair, Reshma Beauty's hair & skin oils are the perfect choice.
Skincare Gift Sets: Help your dad upgrade his skincare routine with a skincare gift set from Reshma Beauty. These sets are carefully curated to address specific concerns such as acne, aging, or dryness. Our sets contain a combination of face washes, scrubs, and moisturizers enriched with botanical extracts and essential oils. Pamper your dad with a complete skincare routine that will leave his skin looking and feeling refreshed.
Turmeric Body Wash: Enhance your dad's shower routine with an opulent body wash from Reshma Beauty. Our Turmeric Body Wash are carefully crafted with nourishing ingredients like coconut oil, turmeric, and aloe vera. These moisturizing elements help cleanse the skin while keeping it hydrated and supple. Your father will enjoy the rich lather and make your dad feel pampered and rejuvenated.
Reshma Beauty offers a range of Father's Day gifts. Whether you choose a luxurious hair oil, a skincare set, or a lavishing body wash, your dad is sure to appreciate the thought and effort you put into selecting his gift. Show your dad how much you care by treating him to high-quality grooming products from Reshma Beauty.
No More Dad Bod, Just Dad Glow. Thanks to Reshma Beauty.
---