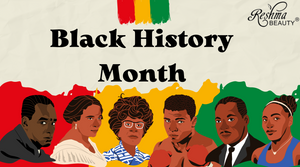 Black History Month honors all Black people from all periods of U.S. history, from the early 17th century to African Americans living in the United States today.
Why was February chosen as Black History Month?
February was chosen primarily because the second week of the month coincides with the birthdays of both Abraham Lincoln and Frederick Douglass. Lincoln was influential in the emancipation of slaves, and Douglass, an abolitionist.
Lincoln and Douglass were each born in the second week of February, so it was traditionally a time when African Americans would hold celebrations in honor of emancipation.
The week-long event officially became Black History Month in 1976 by President Gerald Ford. He extended the recognition to "honor the too-often neglected accomplishments of Black Americans in every area of endeavor throughout our history." Barack Obama, the nation's first Black president, who delivered a message of his own from the White House, a place built by slaves.
"Black History Month shouldn't be treated as though it is somehow separate from our collective American history or somehow just boiled down to a compilation of greatest hits from the March on Washington or from some of our sports heroes," Obama said.
"It's about the lived, shared experience of all African Americans, high and low, famous and obscure, and how those experiences have shaped and challenged and ultimately strengthened America," he continued.
Know more about the people who made a difference
Martin Luther King, Jr. - who fought for equal rights for Blacks during the 1950s and '60s.
Thurgood Marshall - the first African-American justice appointed to the United States Supreme Court in 1967.
Rosa Parks - who known as "the mother of the freedom movement," was an American civil rights activist.
George Washington Carver - who became the first female African-American astronaut to travel to space in 1992.
Maya Angelou - who was a poet, author, and civil rights activist who left a legacy of beautiful printed works, telling often painful stories of her own hardships in life.
Barack Obama - who was elected the first-ever African-American president of the United States in 2008.
BLACK HISTORY MONTH TODAY
Since the first Black History Week in 1926, other countries have joined the United States in celebrating Black people and their contribution to history and culture, including Canada, the United Kingdom, Germany, and the Netherlands.
Today Black History Month continues the discussion of Black people and their contributions through activities such as museum exhibits and film screenings, and by encouraging the study of achievements by African Americans year-round.
The time is always right to do what is right.
---