Announcing: New Products!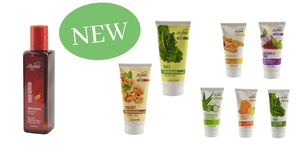 Click
here
to watch a full video on our new skincare line!
We are excited to announce additions to our natural hair & skin care product selection. Read on to find out what we have been working on!
Henna-Infused Hair Serum
A new product infused with
Reshma Beauty®
Henna to strengthen and protect your hair.
Fuller, healthier-looking hair - with all the benefits of this super plant for your hair, without the hair dyeing properties. Put it to the test through styling and environmental stressors. 
FIND IT HERE
Face & Body Scrubs
Select from our two face scrubs: the brightening, vitamin-rich
WALNUT
and the detoxifying
KALE
.
Both are infused with natural exfoliating granules to slough away dead skin cells, dirt and excess oils,  while helping reduce the appearance of scars and pigmentation.
FIND THE FACE & BODY SCRUBS HERE
Face Washes

And finally, a collection of scrumptious natural-based Face Washes to bring back your best-looking skin!
Featuring some of the best medicinal plants and infusions  - SAFFRON & MINT, TURMERIC, KALE, HONEY & LEMON, and CUCUMBER & ALOE VERA - these face washes are designed to cater to every skin type and need.
 
FIND THE FACE WASHES HERE


These new Reshma Beauty® products now available.
In the upcoming weeks we will be dedicating more posts to tell you more about the benefits of these Nature's Best Kept Secrets.
Stay tuned for December, as we are planning to reveal more new products. You will not want to miss these goodies.
---