What Does a Deep Conditioning Mask Do for Your Hair ?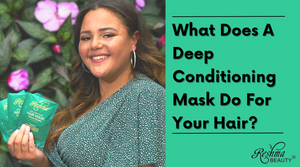 Welcome, hair fanatics, to a tale of hair heroics. Fasten your seat belts as we go on an adventure like no other to explore the benefits offered by our Reshma Beauty Deep Conditioning Hair Mask. These masks are responsible for unleashing the magic of moisture and possess the power of pampering your hair, providing them with a touch of whimsical hair transformation. So prepare yourself as we take a nose dive into the stack of benefits offered by Reshma Beauty Deep Conditioning Mask and why it should be an absolute essential in your hair care routine.
Intense hydration: One of the primary functions of a deep conditioning mask is to provide intense hydration to your hair. Over time, factors like environmental stress, heat styling, chemical treatments, and even regular shampooing can strip your hair of its natural moisture, leaving it dry, brittle, and prone to breakage. Reshma Beauty deep conditioning mask is formulated with rich, moisturizing ingredients such as henna extract and Argan oil, that penetrate the hair shaft by restoring and replenishing lost moisture. This hydration helps to improve the hair's elasticity, leaving it softer, smoother, and more manageable.
Revitalizes Damaged Hair: Fond of styling? Are you accustomed to using straighteners or hair dryers? Regular application of hair styling products can leave our hair damaged and, in worse cases, cause harm that is beyond repair. Reshma Beauty Deep conditioning masks contain Avocado Oil, Coconut Oil, and Argan Oil and are known to rework and repair damaged hair, improving its overall health and appearance. Sealing the split ends, deep conditioning masks can effortlessly restore health and vitality to your hair.
Promoting Hair Growth: When your hair is subjected to stress and damage, it can impede healthy hair growth. Deep conditioning masks, such as those offered by Reshma Beauty, contain ingredients such as Grape Seed Oil that stimulate the scalp and promote blood circulation, which is crucial for optimal hair growth. These masks help create a favorable environment for the hair follicles, leading to stronger and healthier hair growth.
Restoring Shine and Luster: Lackluster hair can make you feel less confident about your appearance. Reshma Beauty deep conditioning hair mask plays a vital role in restoring shine and luster to your hair. With ingredients such as Aloe Vera which helps

 cleanses the hair shaft, stripping it of excess oils and residue from other hair products

. Reshma Beauty Deep Conditioning Mask helps to replenish moisture and nourishment, and improves the hair's overall texture, making it smoother, shinier, and more vibrant. This mask is infused with natural ingredients that add a beautiful sheen to your hair, leaving it looking healthy and radiant.
So there you have it, our dear adventurers; this ends our whimsical journey into the world of deep conditioning. Armed with knowledge and the benefits that the Reshma Beauty Deep Conditioning Hair Masks can provide you with, it's time for you to indulge in the same and let your hair-apy begin!
Transform Your Hair, One Mask at a Time
---