Top 5 Products To Use This Fall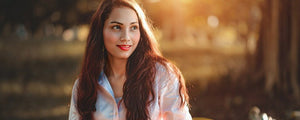 Click
here
to watch Reshma's full video!
Fall comes with many loved attributes – Halloween and Pumpkin Spice Lattes (and its recently popularized younger "sibling" – Turmeric Lattes), just to name a few. But unfortunately, the onset of colder days can also mean hair fall and dull skin for many of us.
Here are our best 5 product recommendations to beat the Fall gloom!
Tone & "Glow It Up" with Ubtan Turmeric Face Mask
Prolong the summer glow by applying the Ubtan Turmeric Face Mask regularly. This mask is full of nutrient-rich ingredients. Turmeric is renowned for its anti-inflammatory, anti-oxidant and anti-carcinogenic properties, helping pull toxins from your skin and slow down aging. Sandalwood and Gram flour will help exfoliate away dead cells for a fresh, toned look. Barley flour helps replenish your skin with much-needed moisture and improve its elasticity.
During the colder months, make sure to mix Ubtan with rich creamy ingredients, such as plain, unsweetened full-fat yogurt, or coconut cream for a vegan option. The healthy fats and amino acids will help moisturize and nourish your skin, keeping it soft and glowing even throughout the cold season.
Bonus tip: Turmeric is also great for warding off colds! Fix yourself a Turmeric Cold and Flu tonic – try this recipe by Meghan Telpner.
Double The Turmeric, Double The Glow
Double up on the effect of the golden spice by adding the Turmeric Moisturizing Soap Bar in your daily routine. This bar is infused with Aloe Vera and Olive Oil, making it gentle enough for both your face and body.
Use it to wash off make up, or for a relaxing bath after a long day. Your skin will thank you with a natural glow.
Bold Wine Red or Soft Rouge Henna – Which One Will You Choose?
Fall is traditionally a season for "warm" colors in the beauty and fashion worlds alike. If you've been thinking about changing your hair color – try a warm red with a natural-based Henna hair dye. Reshma red Henna comes in two options: "Rouge" Classic Henna, and "Wine Red" 30 Minute Henna.
Rouge Classic Henna is for those who want a soft hue. Without being a drastic change, the Classic Henna will leave your hair with a warm shine that shows up beautifully in direct light. The 30 Minute Henna is specifically designed for gray coverage, and provides a deeper shade.
The added benefit of both the Classic and the 30 Minute Henna collections is the conditioning effect of 100% natural henna. With every use, your hair will become softer, shinier, thicker and more manageable. Henna is nature's 2-in-1 color and conditioning at its finest.
Nourish & Prevent Hair Damage with Coconut Shampoo & Conditioner
As the weather is cooling, your hair will need some extra love and care to keep the strands flexible and protected against the elements.
Reshma Beauty® Coconut Shampoo & Conditioner are enriched with a multitude of nourishing ingredients that will revitalize your locks.  Coconut oil and Coconut extract come together for a double nourishing effect. Naturally rich in vitamins E, K and iron, they will moisturize your hair strands from the inside out and help prevent split ends. The bouquet of ingredients is complete with Rosemary to stimulate hair growth, White Oak bark to help prevent dandruff, Aloe Vera to add elasticity and bounce, and Chamomile for that finishing touch of softness and shine.
What you won't find in the Reshma Beauty® shampoo and conditioner is harmful sulfates and parabens. Our hair care line is gentle on your hair, making it suitable for curls, as well as color treated hair.
Moisturize & Stimulate Hair Growth with Oil
A good Oil is your hair's best friend – especially if it's the Oil for Dry & Damaged Hair. With just five natural ingredients, this treatment helps seal in moisture, as well as give your hair volume and shine when it needs it the most.
The natural henna extract helps repair and replenish the hair strands - just like a Henna hair color, but without the dyeing properties. Cedarwood oil stimulates the scalp, promoting hair growth. Olive and Jojoba oils help moisturize and condition, adding luxurious shine and softness. Tea tree oil possesses antibacterial and anti-fungal benefits to keep your scalp healthy and to prevent it from excessive dryness.
Use the Oil either as a deep conditioning treatment before the hair wash, or as a leave-in treatment to seal in moisture after. To use as pre-wash, massage the oil into your scalp for 5 – 10 minutes, then leave it for at least 30 minutes. This will increase blood circulation and help ensure better nutrient absorption for your scalp.
Which products from this list have you tried, and which ones would you like to try? Let us know in the comments!
image courtesy of MaxPixel.net
---