Tired OF Frizz And Split Ends? Reshma Beauty® Has The Right Cure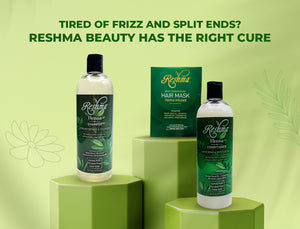 DON'T LET SPLIT ENDS BE THE DEAD-END
We know you dream of long, beautiful, well-manicured, and styled hair, so why let split ends rain on your parade of having healthy hair?
THE WRONGS AND RIGHTS OF HAIRCARE
What if we tell you that you can completely avoid split ends just by following a simple yet healthy haircare routine with Reshma Beauty®. Make believe that our Haircare secrets will give you the split-ends-free hair of your dreams.
SAY NO TO HARSH SHAMPOOS
One of the primary causes of split ends is regular washing of hair with shampoos containing harsh chemicals, as such products can do more harm than good to your hair. Add Reshma Beauty® split-end treatment to your routine with our toxins-free strengthening and volumizing Henna Shampoo. The organic, paraben-free, and sulfate-free shampoo will mildly exfoliate and cleanse the scalp, whereas the natural proteins in the shampoo will add luster and volume to the hair.
NEVER SKIP CONDITIONING
Lock moisture and give your hair the right nourishment with Henna Conditioner by Reshma Beauty®. The botanically enriched formula of our organic conditioner is designed to nourish the locks from root to tip and restore individual follicle softness and luster, making it the best care for slit ends.
Benefits of the Deep Conditioning Mask:
This hair mask noticeably improves hair texture and shine by plumping it with luxurious ingredients and nutrients like 100% Natural Henna, Grape Seed Oil, Argan Oil, Coconut Oil, Aloe Vera, and Avocado!
Henna Extract: Improves hair health and reduces hair loss—the ultimate moisturizer to lock in hydration to hair and skin.
Aloe Vera: The fatty acids found in the aloe plant have anti-inflammatory properties that help relieve symptoms of an itchy scalp and flaking skin under your hair. It also cleanses the hair shaft, stripping it of excess oils and residue from other hair products.
Grape Seed Oil: Rich in omega-6, this oil helps with hair growth and fights dandruff with its nourishing and moisturizing properties.
Argan Oil: Moisturizes your hair and scalp and protects your hair from everyday damage. Argan oil may help prevent hair loss for thicker, fuller hair by reducing breakage and split ends and keeping your scalp healthy.
Coconut Oil: Coconut oil is rich in fatty acids and antioxidants that help prevent aging and damage our skin and hair.
Avocado Oil: The minerals found in this oil can help seal hair cells, preventing hair from breaking. It is also moisturizing and helps repair and strengthen your hair.
FOLLOW UP WITH A NOURISHING HAIR MASK
A hair mask that helps prevent split ends can save your long hair dreams, and the Deep Conditioning Hair Mask by Reshma Beauty® is the right pick. The hair mask is deeply moisturizing, softening, and hydrating, making it an ideal choice for an at-home conditioning treatment to prevent split ends. The hair mask works magic on dry, damaged, or chemically processed hair.
SPLIT ENDS STAND NO CHANCE WHEN RESHMA BEAUTY® IS HERE WITH ITS ORGANIC CARE
---