Reshma's Personal Tips on How To Use Henna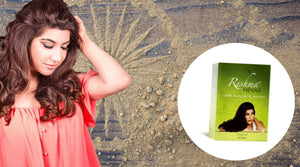 Updated March 2023
Applying henna as a hair color is a tradition stemming as far back as Biblical times.  Nowadays, this tradition has been adopted by millions of women (and men!) across the world. If you have never ventured into henna-dyeing, you may have a lot of questions on why and how to use henna.
There are many ways to mix and apply henna. This week, Reshma Beauty® CEO, Reshma Dordi, is here to share some exclusive tips on using Classic Henna, as well as her own proven recipe for preparing the mix. Read on to find out!
WHAT ARE THE BENEFITS OF HENNA?
First of all, why choose henna when there are so many alternatives? Here are just a few reasons.
Gray Coverage
Henna is an all-natural hair color that has been used for centuries by women around the world to cover the inevitable grays. Natural henna in its pure form gives a reddish tone – however, Reshma Beauty Classic Henna line offers 6 different colors that use all-natural plant ingredients to attain different colors, from Raven Black to Toffee.
Fuller, Thicker Hair
Unlike regular hair dyes, henna does not strip your hair of its color and leave your hair lifeless and dull. On the contrary, Henna gently coats the hair shaft, making your hair fuller by forming a protective layer over it.
A Natural Restoring Treatment For Your Hair
Henna particles bind to the keratin in your hair strand, helping restore its structure and smoothing out the hair strand, resulting in bouncier, more flexible locks.
Luminous Shine
There's something about henna that leaves your hair with a noticeable shine. Could it be the the highlighting effect produced by henna color? Or is it that henna improves the overall health of your hair, giving it more natural sheen? The answer is: both! Henna really is a gift for your hair, that generously provides benefits with every use.
With all these positives in using henna, is it any wonder that more and more people are choosing henna over regular hair dye? It is an all-natural alternative to hair coloring – and it is increasing in popularity by leaps and bounds.
Now, let's look at the how's.
HOW MUCH HENNA SHOULD I USE?
I tend to use the entire pack of 5.29-ounce Classic Henna because my hair is quite thick and below shoulder length. If your hair is above shoulder length, half of the pack should be sufficient.
Not sure how to store an open package of henna? It can be kept up to one year, as long as it is stored in an airtight container, such as a Tupperware dish or Ziploc bag, in a dry, cool place.
WHAT SHOULD I MIX HENNA WITH?
A lot of sources recommend adding lemon juice to your henna mix. This is a misconception, as lemon was never used in India traditionally. Personally, I have found lemon juice to be drying. Over time it can cause your hair to become brittle and prone to breakage.
Instead, you should balance the strengthening benefits of Henna with nourishing, moisturizing ingredients to maximize the conditioning effect. I have a few go-to ingredients that deep condition my strands as they're being colored.
One of my favorite secrets is to mash up half of a ripe avocado and add it into the henna mixture. Avocado adds essential fats and amino acids that help revitalize your locks. Your hair will be softer and less prone to breakage.
I always like to add the Reshma Beauty® Henna-Infused Oil for Normal to Dry Hair.  It contains an array of natural oils that stimulate the scalp and promote healthier hair. To name a few: Almond oil, which helps moisturize and add shine, Cinnamon oil to help reduce hair breakage, and Clove oil, to assist in preventing dandruff, as well as to thicken and volumize the hair. I usually add 3 teaspoons of the Henna-Infused Oil to the mixture per one full pack of Henna. If you are using half of a pack of Henna for your hair, even 1-2 teaspoon should do the trick.
Last but not the least is… beer. Yes, while it is a surprise for many people, this hoppy drink provides a set of benefits for stronger and thicker hair. Look for a beer variety made with barley rather than wheat to get the full benefits. Barley, along with hops and yeast contained in the beer, will enrich your hair with a complex of the vital B-vitamins, and add shine and volume, thus doubling the effect of Henna. The beer will make your skin tingle, as it's stimulating your scalp and letting you know it is working its magic.
HOW DO I PREPARE THE HENNA MIX?
Choose your mixing bowl
Stainless steel, ceramic, or porcelain bowls are the best materials to use for mixing henna. Plastic dishes are not recommended as they are porous and can be stained by the natural tannin. Save the coloring properties for your hair, not your bowl.
Preparing the Mixture
Pour the henna powder into the bowl and mix in the liquid ingredients. I like to start by adding the Henna-Infused Oil for Normal Hair and the mashed avocado directly into the henna powder, then adding ½ cup of beer and mix well until all the ingredients are blended in. You can use the liquid ingredient of your choice instead of beer, such as water, or tea, etc. Keep adding the liquid gradually, until you reach a paste-like consistency. You want the henna mix to be easy to spread on your hair, but not too runny. Start with less liquid, and add more gradually.
Let Your Henna Mixture Soak
After preparing the mixture, it is recommended to let it sit a minimum of 3-4 hours. However, I like to let it sit soak as long as possible, to give henna a chance to fully release its dying properties. Often, I'll pre-mix the henna on a Friday evening and put it in the fridge overnight, to apply it the next morning.
HOW DO I APPLY HENNA?
A suggested minimum time to keep henna in your hair is 3-4 hours. I like to set aside a morning and either catch up on some housework – doing laundry or cleaning, or squeeze in some down time with a favorite TV show!
Henna is easiest to apply if you start by sectioning out your hair, from the bottom up. Use as many hair clips as you need, starting at the back of your neck and making your way up to the crown of your hair. Make sure to use the gloves provided with the package of Classic Henna – the dyeing benefits of henna will work on your hands too if you're not careful!
The henna will harden on your hair as it dries – this is normal. If you're moving about the house, just cover your head a shower cap or throw a towel over the shoulders to prevent henna from shedding on the floor.
After you've kept henna in your hair for at least 3-4 hours, it's time to wash it out. First, rinse the hair out completely with just water, before using shampoo. Make sure to massage your scalp while rinsing. This will help ensure you get all the henna out of your hair, while stimulating your scalp for better hair growth. Once the water starts to run clear, then you can wash your hair with shampoo & conditioner like you normally would.
I like to use the Henna Sulfate-Free Shampoo and Henna-Infused Deep Conditioning Hair Mask. These products are enriched with Henna and a set of other natural ingredients to moisturize and nourish your strands, as well as to protect your hair color.
SHOULD I PERFORM A SENSITIVITY TEST?
While Henna is a 100% natural hair color, it is important to remember that sensitivities can be triggered even by natural ingredients. Always perform a 48-hour sensitivity test before applying henna to your hair.
DOES HENNA COME IN JUST ONE COLOR?
Once you've established that you have no allergies to henna or other ingredients in your mix – it's time for fun!
The shade of natural, pure henna is a coppery red. It may vary only slightly, depending on the timing of the harvest of the henna leaf, and the concentration of other ingredients. However, Reshma Beauty® offers a line of 6 colors of Classic Henna, which are achieved by mixing Henna with other 100% natural plant ingredients. For instance, the tempting and luxurious "Dark Chocolate" Classic Henna  comes from mixing Henna with Indigo, while the daring "Rouge" Red Classic Henna  gets it shade from the hibiscus flower.
Another fun way to change and deepen the shade is by preparing the mixture with different liquid ingredients. For a richer dark color, try mixing the henna powder with freshly brewed coffee instead of water. For a deeper and brighter red tone, prepare the mixture with black tea or beet juice!
Play around with different colors and find the natural shade that speaks to You!
---