The Difference Between Classic Henna and 30-Minute Henna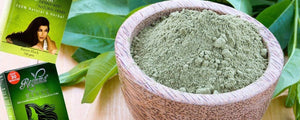 Click here to watch Reshma's full tutorial! . Hope you all are staying safe at home. Today, I want to talk to you about the difference between our Classic Henna and our 30-minute henna. Let's begin with our classic line. This is our original, 100% pure henna, with no harmful chemicals– nothing added to it all. This is one of the most popular products in the South-Asian community, and it's also used for body art henna.
In our Classic Henna line, we have five colors that you can choose from: Original Classic Henna, Classic Dark Chocolate, Classic Playful Plum, Classic Raven Black, Classic Rouge, and Classic Toffee. 
The Original Classic Henna has no additional coloring added to it.  All the other colors come from vegetable and fruit extract. Our Classic Henna Line requires for you to soak it. I usually soak it overnight. add some avocado, and Reshma Beauty® Henna oil for extra moisturizing properties. My personal secret ingredient is to soak it in beer because barley is rich in vitamins and minerals, so it helps promote and stimulate hair growth. Then, I apply it in the morning, do my household errands for a couple hours, and wash it off normally with shampoo and conditioner. I use our Henna Shampoo and Henna Conditioner because it is extra strengthening for my hair – and remember, the Henna Shampoo and Conditioner does not change the color of your hair.
Now, the 30-minute henna was created for those who don't have the time to leave the henna in for too long. Like our classic line, this is natural henna, but it includes active catalysts in order to speed up the process and give you a vibrant, deep color. There are nine colors to choose from, but I use Natural Dark Brown. The other colors are Natural Burgundy, Natural Highlights, Natural Violet, Natural Midnight Blue, Natural Light Brown, Natural Chestnut, Natural Black, and Natural Wine Red. All you have to do with this henna powder is add water, but I have another small trick where I add a teaspoon of our deep conditioning mask as well. This results in super soft and silky hair. For stubborn greys, I recommend keeping the henna in for about an hour.
So, that's the difference between our Classic line and our 30-minute henna line. Make sure to get our moisturizing henna products, so you can bring the salon home!  As always, use our Aloe-Vera Infused Hand Sanitizer to stay safe. We're all in this together!
---