Henna 101: All You Need To Know About Henna For Hair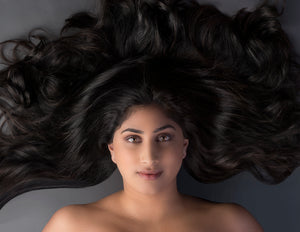 Hello, Reshma Beauties! In today's blog, we'll be covering some general yet essential information about henna, from its natural origins to the specifics on its powerful plant-based attributes. We'll also take a look at how the henna leaf, in all of its forms — from powders to infusions to extracts — plays a vital role in the creation of our signature goodies, which include all-natural solutions for skincare, hair color, body oils, and more! Before or after reading, be sure to take a look at our full collection of handcrafted, henna-based beauty products. Explore our shop, order your favorites (a la carte or in a bundle), and get ready to experience the amazing aesthetic, health, and beauty benefits that this lovely leaf has to offer!
Henna 101: What Is Henna?
Henna is a leaf that thrives in the northwestern regions of India, where the intense heat and dryness of the growing zone perfectly complement the plant's natural, healthy development. Henna has been used for centuries, if not thousands of years, as a raw ingredient in just about everything because of its desirable profile of functional and aesthetic features. From herbal medicine to hair color, from writing ink to hand sanitizer, the list of products and recipes that incorporate the humble henna leaf are far too numerous to name exhaustively here.
The henna plant bears large, green leaves which are harvested and hand-picked with care, and this is typically done twice a year. The optimal harvest times for henna generally take place after the heavy rains of the monsoon season have passed. Once picked, henna leaves are subjected to a detailed drying process, and once this is complete, the dehydrated plant matter is ground into a fine powder. Even as a powder, henna still holds onto its natural pigments, which are often used to produce dyes, inks, hair colors, and other products. Henna is truly a versatile organism, with a vast number of potential uses ranging from practical functions to cosmetic treatments.
Powerful Benefits Begin With A Plant: What Can Henna Be Used For?
Regardless of the type of henna used, or the form that it takes (i.e., oil, powder, etc.), this powerful plant has numerous health benefits and offers many boosts to overall wellness. This is due to henna's high levels of natural chemicals, organic compounds, and phytonutrients, all of which are found in the plant and its leaves. Henna can be used for medicinal purposes, such as reducing fevers and healing wounds, but it can also be used to enhance the health of your skin and nails. With so many viable and valuable uses, it is easy to see why henna has remained so desirable for hundreds of years.
Mighty Leaves & Modern Markets: What Products Use The Henna Plant?
When it comes to henna, most people today know it as the source of the dye used to produce the pastes and long-lasting pigments associated with henna tattoos. Although this ancient Indian ingredient can certainly be used in creating intricate, semi-permanent designs on the skin, it has become increasingly popular in recent decades for other cosmetic and health-boosting purposes. Most commonly, henna has emerged in modern marketplaces as a solution for natural hair color and hair dyes, especially in Western nations. Why the shift? How did henna get all the way from the Indian subcontinent to our neck of the woods, where it now commonly appears in U.S. stores, outlet malls, and ecommerce sites?
Why Use Henna In Hair Care Products?
When you know the full profile of benefits that henna has to offer, it's easy to understand why the popularity of this plant keeps on soaring. Henna helps protect your hair by sealing the hair cuticle. This not only prevents hair from breaking, but also strengthens and fortifies the fibers in each strand. Furthermore, henna improves the overall appearance of your hair, providing moisture, nutrients, and brightening complexes, all of which ultimately leave you with silky, shiny, and strong locks.
For those who have been searching for a great hair color product, but wish to avoid the harsh chemicals and synthetics used in many modern beauty goods, henna is a much-needed and warmly welcomed solution. Many plant-based products for hair care, hair color, and beyond have emerged in recent years, including our very own classic collections here at Reshma Beauty®. Whether you're looking for natural highlights (sans bleach) or you want to change up the look of your 'do with a dark chocolate hue, the Reshma Beauty® Classic Henna Hair Color Collection has what you seek. When supplemented with one or more of our other henna hair care goodies, you can feel confident that you're well on your way to achieving your healthiest, most splendid mane yet.
Reshma Beauty® henna-based hair products and coloring dyes (which contain no ammonia or peroxide) will leave you with silky, smooth hair, as well as other aesthetic and physical advantages that no other product or plant can provide. So consider adding a plant-based hair care product to your daily beauty and wellness routine — with absolutely no synthetics, chemicals, or harsh compounds in sight, this all-natural approach is not only bound to maximize the beauty and color of your hair, but can provide even more long-term perks in the way of helping you grow your hair to be healthier, stronger, and longer.
Shop Henna-Infused Solutions For Healthier Hair, Skin, & So Much More
Shop our full collection of henna hair colors here, or explore dozens more natural and plant-based solutions for hair care, skincare, hand sanitizer, and more. Ready to find your new favorite henna-based formula from Reshma Beauty? Simply visit our online storefront at anytime (open 24/7) and order your best beauty-enhancing bundle today!
---