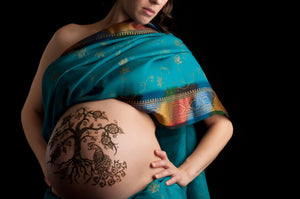 WHAT IS HENNA?
Natural henna is produced from the leaves of Lawsonia Inermis (Henna tree), which is believed to have originated in Egypt and transported to India, ingraining itself in the Indian culture as early as 700 AD. The leaves of the tree are dried and ground into a fine powder, which is why natural henna has that recognizable earthy smell and green color.
Henna is most commonly sold and stored in powder form, which is closest to its natural state. In order to create the henna paste, the dry henna powder is mixed with water; some ingredients may be added to prolong the dyeing, or "staining", effect and deepen the conditioning properties, such as eucalyptus for henna tattoos , and olive oil for henna hair color.
WHAT DOES HENNA DO? 
As a hair colorant, Henna in its pure form provides an orange-red to reddish brown color (depending on the original hair color). Different shades can be achieved bymixing the henna with other botanical ingredients such as in the
Reshma® Classic Henna
, or non-harsh catalysts, such as in the
30 Minute Henna
.
Henna also acts as a natural conditioner.
A study published in the Oman Medical Journal
indicates that henna has strong protein binding capacities; its particles connect to the keratin in the hair shaft, thus helping prevent damage and leaving the hair smoother, thicker and stronger, while also giving the hair a soft shine.
In body art, Henna, along with Haldi (covering the face and body with
turmeric paste
), have been a long-standing tradition in India and several other countries, representing the "awakening of the inner light". This is a beautiful example of an ancient wisdom merging cosmetic and health benefits, as henna has been traditionally used as a "cooling agent, astringent, anti-fungal and anti-bacterial herb for the skin and hair" (
Oman Med J.
) .
The medicinal properties of henna help manage scalp and skin issues, including dandruff and mild irritations, making it a healthy alternative to regular hair colors and body paints.
THE RULE OF THUMB
For a natural product that offers a multitude of health benefits, sometimes henna can be a controversial topic. The misconceptions about henna are often amplified by misleading information from henna manufacturers and sellers, as well as attention-grabbing publication titles.
For instance, the article from The Telegraph.co.uk  titled "Henna tattoos linked to leukaemia risk" goes on to explain that the leukemia risk in women receiving henna is actually tied to "benzene and/or any of the other chemicals mixed in henna" rather than the natural henna itself.
As demonstrated by The Telegraph article, it's important to know the ingredients and source of the product whether applying henna to your hair or skin.  One must also be wary of individual allergies: even completely natural products may cause allergic reactions in certain people.

The rule of thumb with any hair color, including henna, is to perform a 48 hour patch test before applying to your entire hair area.
Proactively taking these measures will help ensure that you fully enjoy this Nature's Best Kept Secret and its benefits for your hair and skin.
We love hearing from you! Comment below with any questions, or to share your experience with henna.
---