How To Reduce The Smell of Henna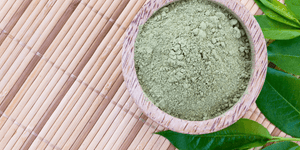 Updated March 2023
If you use or have thought about using Henna, you may be familiar with its natural earthy smell.
Some "Henna Heads" (a term coined by Curly Nikki) love it, as it reminds them that henna is natural. Others just don't quite enjoy it. We get it, to each their own.
The fact remains: henna has many benefits that you just don't want to miss out on: you can read about them here and here.
Don't let the scent stop you from getting your best-looking hair, naturally. Here are some tricks you can use to reduce the henna smell and enjoy the process.
Ginger Powder
Try adding ginger powder to your henna mix. Its a scent that will act as a neutralizer, helping you get rid of the Henna smell almost entirely. Added bonus: ginger contains many micro nutrients and helps improve blood flow, potentially resulting in improved hair growth.
HOW TO USE: Add 1-2 teaspoons into the henna paste and mix well. Apply henna to your hair as normal.
PRO TIP: Ginger contains a chemical compound called gingerol that gives it its zingy quality, similar to peppers. Be careful not to use more than the recommended amount, or your henna experience will feel a little tingly.
Cardamom Powder
From the Swedish apple pie to Indian cuisine staples, cardamom has earned its place in many dishes (and hearts) across the globe for its piquant and sweet flavor and scent. This same scent will work wonderfully to "spice up" your henna application process.
HOW TO USE: Add 1-2 teaspoons into the henna paste and mix well. Apply henna to your hair as normal.
PRO TIP: Set some time aside and pair your henna experience with a cup of cardamom-infused mulled wine or hot cider 😊
Naturally Scented Oils
Reshma Beauty® Oils for Hair & Skin come ready to use with indulgent natural scents. As you may know from our previous post, Reshma's personal favorite oil to use with Henna is the Deep Conditioning Oil for Dry & Damaged Hair. This oil is scented with the luxurious Jasmine essential oil and filled with natural hair growth-boosters, including Cedar wood and Tea Tree oils - guaranteed to bring out your inner Queen!
If you prefer a lighter scent, try the Oil for Normal Hair & Skin. This oil blend is scented with Lavender to soothe your skin, and mind. The natural Almond and Clove oils will nourish and leave your tresses with lustrous shine.
HOW TO USE: After you have prepared the henna mixture, add ½ - 1 tablespoon into the mix and stir well. Apply the henna paste on your hair as you would normally. 
PRO TIP: The oils are 100% natural. Leave them in your hair for any time period from 30 minutes to overnight (with the exception of individual allergies). Then just sit back and let Reshma Beauty® Henna and Henna-Infused Oils do their conditioning, volume-boosting magic.
Click here to see a tutorial on how to use our 30-minute henna hair colors
Remember that individual sensitivities can trigger allergic reactions even to natural ingredients.
We strongly recommend performing a 48-hour patch test before applying Henna hair color.
How do you feel about the smell of henna? Which of these tips do you plan on trying?
Image credits:
(1) pilipphoto/iStock/GettyImages
(2) credit: Max Pixel
Bestsellers in Henna:
---