How to Get Rid of Dandruff with Natural Products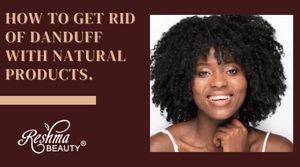 Are you Searching For A How To Get rid of Dandruff With Natural Products?
Well Look No Further!
How do Henna Products Help To Get Rid of Dandruff Naturally?
Dandruff is a common scalp ailment that causes itching and dryness. These tiny, loose white flakes can cause several other scalp problems. A lot of chemical-based products are available in the market to get rid of dandruff. But today we will give you the ultimate guide on how to get rid of dandruff with natural products.
Henna Helps To Remove Dandruff
Henna has been utilized for its beneficial qualities for a very long time. It has been used as a deep conditioning treatment for hair as well as for natural hair coloring. But do you know that Henna is also beneficial for removing dandruff.
Yes, you can get rid of dandruff using the natural properties of Henna. But if you have a tight schedule and are unable to treat your hair with henna powder, you can use Reshma Beauty® products in your hair care routine to get rid of dandruff. These Henna infused products can eliminate any oil buildup. Its antifungal properties can prevent the growth of the fungus that causes dandruff.
Reshma Beauty® Henna Infused Products Helps to Get Rid of Dandruff
Here are Reshma Beauty® hair care products to help clear dandruff from the scalp naturally. All these products are made with organic henna extract.
Reshma Beauty® Henna Shampoo and Conditioner

This Shampoo and Conditioner is made from henna extracts and helps to clean your scalp of dead skin cells, dirt, product residue, and other contaminants. As a result, it eliminates the formation of dandruff.






Deep Conditioning Hair Mask

Using a hair mask that deeply moisturizes hair is one of the best ways to get rid of dandruff naturally.



Henna-Infused Hair Serum

Hair serum makes hair lustrous and helps to repair and rebuild hair strands. It removes the dirt and roughness of dead skin cells.



Henna Oil for Hair & Skin

Henna hair oil helps to repair and strengthen damaged hair and helps remove dandruff from the scalp.
Your hair is unique and that means you need unique solutions for keeping them strong, and your scalp healthy and dandruff-free.
---