How can I keep my hair healthy in the summer?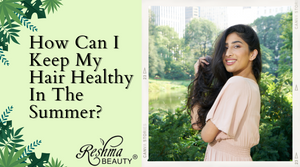 Summer is a time of warm sunshine, refreshing dips in the pool, and carefree days spent outdoors. While we all enjoy the joys of summer, it's important not to neglect the health of our hair amidst the fun and excitement. With Reshma Beauty Products, you can effortlessly maintain luscious and healthy hair throughout the summer. Reshma Beauty offers a range of natural and nourishing hair care products that are specifically designed to combat the damaging effects of the sun, humidity, and other environmental factors. How you can keep your hair healthy and vibrant this summer? 
To keep your hair healthy this summer, here are some tips and suggestions with Reshma Beauty products:
Protect your hair from the sun: Excessive exposure to the sun can damage your hair and cause dryness and breakage. Before heading out, apply Reshma Beauty Hair Oil or Hair Serum, which contains natural ingredients that provide a protective barrier. Additionally, wear a hat or scarf to shield your hair from direct Sunlight.
Deep conditioning: The summer heat can dehydrate your hair, so it's important to provide it with extra moisture. Use Reshma Beauty Deep Hair Conditioning Mask once a week to deeply condition your hair. Apply the mask to clean, damp hair, leave it on for the recommended time, and rinse thoroughly.
Avoid over-washing: Excessive washing can strip your hair of its natural oils, leading to dryness and frizz. Aim to wash your hair every 2-3 days or as needed. When washing, use Reshma Beauty Shampoo and Conditioner, which are formulated with natural ingredients that nourish and hydrate your hair.
Limit exposure to heat: Apart from reducing heat styling, try to minimize your hair's exposure to direct heat sources like the sun, blow dryers, and hot styling tools. If possible, let your hair air dry and use a wide-toothed comb or brush to detangle it gently.
Maintain a healthy diet: Your hair's health is influenced by your overall well-being. Ensure you're consuming a balanced diet rich in vitamins, minerals, and proteins. Additionally, drink plenty of water to keep your hair and scalp hydrated.
Remember to consult the instructions on each Reshma Beauty product for specific usage guidelines and recommendations. Taking care of your hair during the summer will help maintain its health and vitality.
Get Ready To Turn Heads This Summer
---