Halloween Hair Care Tips For Before and After The Big Day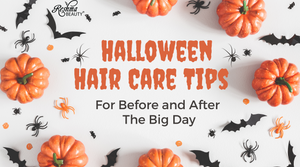 Let's set the stage for a hair-raising adventure – it's Halloween, the spookiest night of the year. You've put together the perfect costume, and your makeup is a work of art, but have you thought about your hair? Your hair has the power to elevate your Halloween look from good to jaw-droppingly amazing. We're about to unravel the secrets to ensure your hair not only survives but thrives both before and after the big day.
Prepping and Protecting Before the Day
Costume-Worthy Color:If your Halloween ensemble calls for a hair color change, don't rely on chemical dyes that can be damaging. Try Reshma Beauty Henna Hair Colors to achieve that perfect, costume-matching shade. It's gentle on your hair and comes in various shades, so you can get your hair color just right for your character.
Watch out for Witchy Tangles:Detangle your hair using a toothed comb to prevent breakage. You might also consider using a serum that contains botanical extracts. Our hair serum will make the process smoother while protecting your locks.
Maintaining Creepy Curls:If you're planning on rocking curls as part of your Halloween look make sure to prepare your hair with a henna hair oil. Our hair oils are natural-based and free from chemicals ensuring that your curls stay fabulous and free from frizz.
After the Big Day: Recovery Ritual
The Witching Hour Cleanse: After a night of partying and costume fun, your hair might need a little TLC. Use a gentle, natural-based shampoo to remove any product buildup and cleanse your scalp. Reshma Beauty offers sulfate-free options that won't strip your hair of its natural oils.
Magic Elixir Mask: Give your hair a spa day with a nourishing hair mask. Look for natural ingredients like aloe vera, coconut oil, or argan oil, which can repair and hydrate your hair, restoring its natural shine and softness. Reshma Beauty offers a deep conditioning hair mask that is exactly the right choice.
Hauntingly Hot Oil Treatment: Treat your hair to a warm oil massage using natural oils like jojoba or castor oil. This can help replenish lost moisture, strengthen your hair, and stimulate healthy growth. Reshma Beauty's oil blends are perfect for this purpose.
Ghosts of Split Ends:If your hair is suffering from split ends, consider a hair serum. This product can temporarily seal the ends, giving your hair a healthier appearance.
A Final Spell of Advice
Remember that your hair is an essential part of your Halloween look, so make this Halloween a hair-raising experience in the best way possible. Treat your hair to the care it deserves and enjoy the spooky festivities with confidence. With Reshma Beauty's Hair Care Collection, you can embrace your ghoulishly gorgeous side while keeping your hair naturally beautiful. So, whether you're a vampire, a witch, or a friendly ghost, your hair can shine as brightly as your costume
Spook-tacular locks for a haunting look!
---