New Hair, New Aftercare Routine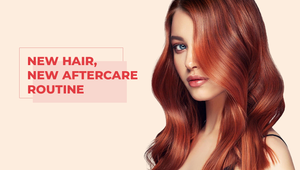 New Hair, New Aftercare Routine
Getting your hair colored is an experience. It can change how you see yourself in just one session of hair coloring. The question is how do you keep your color lasting and how do you keep your hair from damaging it?
Aftercare: Do You Really Need
The answer is a big YES. It is extremely essential to follow an aftercare routine once you get your hair colored. Reshma Beauty® has the right aftercare routine to keep your color fresh.
Mixing and Coloring
When preparing to color your hair with our 30 Minute Henna by Reshma Beauty®, in the henna mixture, don't forget to add a teaspoon our Deep Hair Conditioning Mask to the Henna Hair Color mixture. Keeping your hair and ends moisturized will ensure that your color remains vibrant and shiny.
Washing and Conditioning
Using a color protectant shampoo and deep nourishing conditioner is always the right choice to wash your colored hair right. Henna Shampoo and Henna Conditioner are your go-to options when it comes to hair washing aftercare for your newly colored hair. Reshma Beauty® Henna Shampoo and Conditioner is Paraben and Sulfate-free which are catalysts that are known to strip hair color.
Treating and Oiling
Henna Oil Deep Conditioning Treatment is what your hair will need after coloring your hair and should be put in twice a week. The oil is a Henna-infused exotic blend that will treat the damaged hair follicles and restore nourishment by adding volume and luster to your hair.
Let Reshma Beauty® guide you toward the perfect aftercare routine!
---