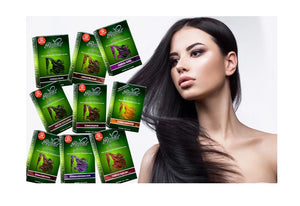 As we continue to be responsible citizens and stay quarantined at home, let's give ourselves some much needed love and appreciation for showing up to our lives in the New Normal, and for accepting this change with positivity. Just because times are different, doesn't mean we need to stop celebrating holidays and festivals. Yes, it is indeed EASTER time of the year and Easter spells out beauty, the rare beauty of new life. It signifies the onset of Spring, when the flowers are beginning to bloom, and the weather finally warms up. It is one of the most hopeful times of the year. So this weekend, wake up in that hopeful spirit, and get ready to celebrate!
You don't need a salon to touch up roots, or get facials done, when you simply order Reshma Beauty® products, from the comfort of your homes, and do it yourself, easily and conveniently. To touch up your roots, or experiment with a whole new spring hair color, try one of the Reshma Beauty® 30 Min Henna Hair Colors, available in 9 different shades. All you need to do is mix our henna hair color in water, and also add our Henna Infused Deep Conditioning Mask to the mixture. Stir it up, till its a thick paste and then, apply from root to tip. Leave it on for 30 minutes and voila! This is a safe treatment to color and condition your hair at home. As for at home facials, we offer a range of natural face masks and scrubs, rich in ingredients like Walnut, Kale, Honey and Lemon, that will help you achieve an instant glow and prep your skin, for flawless make up. And yes, you should spoil yourself with a little mascara and blush, because looking good helps feel good.
And right now, we can all use a little cheer in our lives. So there you go, beauty has never been more convenient. For more tips and tricks to feeling good, visit our website at reshmabeauty.com and also, check out our social media platforms along with our YouTube channel. Until next time, Happy Easter to you and your loved ones. Stay safe, stay positive.
Click here to watch the full video.
---