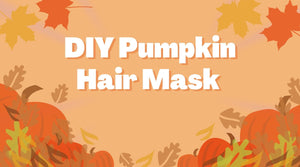 'Tis the season for pumpkins.
The fall season is in full swing and pumpkins are usually the star of the show. You may use pumpkins to decorate your table, front porch, or eat them during Thanksgiving. What do you do with the leftover pumpkins?
Well, don't throw them out! Use those leftover pumpkins to make your own hair masks.
DIY Pumpkin Mask
In fall, most people go crazy for pumpkin flavored everything — pumpkin spiced lattes, pumpkin pie, pumpkin beer, pumpkin bread — and the list goes on. This fall, why not give yourself the ultimate treat and pamper yourself with a pumpkin hair mask? With the added dry air that comes with fall, it can be damaging to skin and hair. With just a few ingredients, a pumpkin mask will nourish your hair and give you glowing skin by restoring its moisture.
To make a pumpkin hair mask all you will need is a 1 cup of pumpkin puree, 1 table spoon of honey and  1 packet Reshma Beauty® Deep Conditioning Hair Mask. Mix all the ingredient together in a bowl.  Apply it from root to tip and then wrap your head with a shower cap or towel; let sit for up to 30 minutes. Rinse off thoroughly and style as usual.
Benefits of Pumpkin
Pumpkin is full of minerals such as potassium and zinc which work to help to keep hair healthy and encourage hair regrowth. Zinc helps to encourage collagen production, which stimulates dying hair follicles and encourages stronger re-growth.
It also includes folate, a vitamin B that helps to stimulate hair growth by improving your blood circulation!
Pumkin Hair Mask For The Win
Altogether, pumpkin promotes radiant, healthy hair and skin. This treatment will leave your hair silky soft with more shine. Any of the leftover masks can be stored in the refrigerator for a week, or in the freezer for a month. Just be sure to give yourself time for it to thaw before your next treatment.
Keep your hair happy with an at-home treatment for a fall festival-worthy pumpkin hair mask. Don't let the cooler weather rob your hair of needed moisture by fighting back with this mask full of essential nutrients.
---