Brighten Your Locks With The Colors of Nature In Just 30 Minutes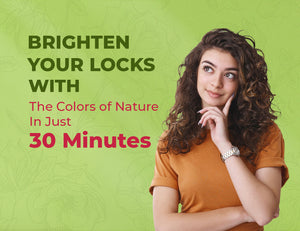 Been eyeing a fresh start for a long time? Reshma Beauty® has got you and your locks covered. From Google searches to Pinterest boards, we know you've done it all to find just the right shade to transform your hair this summer. Leave it on us to help you decide the right shade for your hair, one that is rich with the goodness of nature so you can color with care.

1. Want to Lighten Your Hair? 
Light and soft colors are in this summer as they will give your skin a glowing look. An added benefit of light colors is that they are easy to maintain and grow out. Lighten up in just 30 minutes with Reshma Beauty® Natural Highlights and Natural Chestnut Henna.
2. In Love With Natural Shades?
Looking for a way to give your natural hair color an occasional boost? Our natural hair color range will be just the right pick for you. You can enhance your natural hair color in 30 minutes with our Natural Dark Brown and Natural Light Brown shades.



3. Want Darker Hair?
Darker shades are a new in this summer, they simply accentuate the look by giving the hair a lustrous look and shine. Darker shades are also a great choice if you're looking for a shade to cover your grays. Pick one from our darker range of henna, and let your hair do all the talking.

4. Want To Play With Colors?
A pop of color never hurts, bright colors and highlights can add dimension and depth to flat hair. If you are stopping yourself from going crazy with colors due to fear of hair damage,
Reshma Beauty® 
Natural Midnight Blue, Natural Violet, and Natural Wine Red henna colors are what you need.
This summer, have fun with natural colors without fearing hair damage.
---