6 Ways You Can Use Henna Infused Oil for Normal Hair & Skin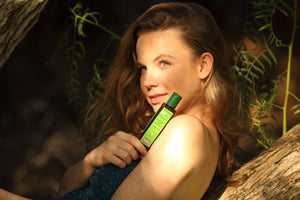 The Reshma Beauty® Henna Infused Oil for Normal to Dry Hair & Skin is a nourishing treatment that can be used in many versatile ways for beauty and self-care. This exotic oil blend is made up of six natural ingredients: Henna extract, Cinnamon oil, Olive oil, Almond oil, Clove oil and Lavender oil, designed to nourish and protect your hair and skin head to toe. It is a perfect companion to take on your travels, or to use at home daily.
Below are just six suggestions on how you can use this Henna Infused Oil.
 

# 1 - PROTECT & ADD SHINE TO YOUR HAIR
If you use heat styling on a regular basis, be it a blow dryer, diffuser, flat iron – you name it, this blend of natural ingredients is formulated to help protect your hair and prevent damage. The henna extract will help repair keratin particles in your hair, while the almond and olive oils will form a protective coating, sealing in moisture.
Apply a dime-size amount to your hands and run it through the length of your hair, from the bottom up. If you have long and thick hair that still feels a bit dry, feel free to add a more generous amount. The oil can be applied either on damp hair fresh after a wash, or on dry hair for a second day touch up. Your hair will look neat and polished, with an effortless natural shine, while also getting a cocktail of all natural ingredients it needs.
 

# 2 - TAME THE FRIZZ
Some of us, and the curly girls in particular, are familiar with the pesky frizz that show up on the crown of your head. Be it due breakage or new growth, fuss over frizz no more – apply the Henna Infused Oil to your hair while you hair is still damp after the shower, or throughout the week as your hair begins to seek moisture. This oil has the perfect viscosity to smooth down the frizzy hair without weighing it down or making it appear sticky.
 

# 3 - MOISTURIZE & SOOTHE YOUR SKIN
This oil can be used just like a full body lotion. The vitamin E in Almond and Olive oil is widely recognized as the spring well of youth, keeping skin supple, radiant and toned. Olive oil also contains vitamin K, which is helpful in regenerating skin and reducing stretch marks. The Lavender essential oil will provide antibacterial quantities, while also enveloping your body with an exotic, soothing scent.
The oil is gentle enough to use as an after shave treatment. Cinnamon and clove oil are known for their anti-bacterial and anti-microbial properties. They will help soothe and relieve irritation, while almond and olive will moisturize and add a finishing sheen. The light, non-sticky formula absorbs quickly, giving your skin a smooth, silky feel.
 

# 4 - REMOVE MAKE UP
The natural moisturizing oils make this Oil Blend the perfect gentle make up remover. This oil contains no drying or chemical ingredients. The Almond and Olive oil will help break down the makeup, including waterproof mascara. Put a small amount on a cotton pad and cleanse your face in gentle motions.
If your skin tends to be dry, you can add an additional thin layer after your skin has been cleared off make up. If your skin is on the oily side - rinse the oil off with the anti-aging Rosemary or the anti-inflammatory Turmeric moisturizing soap bar to complete your look with a healthy natural glow.
 

# 5 – GROW FULLER & LONGER EYE LASHES
Cinnamon and clove oil contained in this oil blend will help stimulate growth, while almond oil will add natural shine and make your eyelash appear fuller with each use. Apply the Oil with a clean mascara brush directly to your eyelashes starting around the midsection, being careful not to get it in your eyes.
Another great trick is to use the oil to refresh your favorite dried up mascara. Add a small drop of the Henna-Infused Oil directly into the mascara tube. This will help soften the mascara, while adding the benefits of natural oils to your eyelashes, adding to a natural doe-eyed look.
 

# 6 – ACHIEVE A FLAWLESS MANICURE
Hands and nails have always been a telling sign of self-care. Using the Henna-Infused Oil during manicures and as a maintenance treatment will ensure your nails and hands look groomed and feel silky smooth.
Almond oil is naturally rich in Vitamins E, as well as B7 (biotin), which are crucial to maintaining the health of your nails and skin, helping your nails grow stronger and thicker.  The oil is also moisturizes and softens the cuticles. We all know trimming the cuticle can be an endless task - the more we do it, the quicker the cuticles grow. Using the Henna-Infused Oil overtime will help reduce the need to cut cuticles, leaving soft and smooth skin.
Apply the Oil onto your nails and hands in gentle circular motions before bed and during manicures. This will help you maintain stronger and thicker nail, as well as supple, young-looking skin on your hands.
 
What are your favorite ways to use this Oil? Let us know in the comments below!
Click on the links below for our entire collection of Henna Infused Oils, carefully formulated for different Hair & Skin types.
---